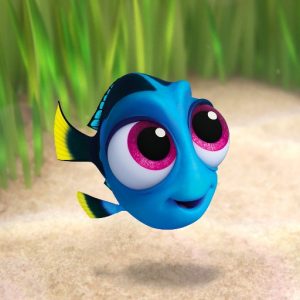 I guess aquatic life has been on my mind since my little jaunt to the Georgia Aquarium and found Nemo and Dory and had so much fun with the sea otters, dolphin and penguins. Nemo, Dory and their friends helped me put into perspective a lot about caregiving and life. It's not all about "just keep swimming!" but you can read about how that quote inspired me by clicking here.
Some of the best help and support you receive will come from unexpected sources.
Dory felt alone because she thought she would never find her mom and dad and have a family. She finally realized that Nemo and Marlin were also her family.  My friends are my family, too and they provided help and support for which I will always be grateful. So did some of the professionals who took care of Ben, and I will forever love and be grateful to them as well. Becky and Gerald may have seemed like they were not up to the task of helping Dory and her friends, but they also came through in big ways. Don't automatically judge or dismiss people, especially if they genuinely want to help, because they may be the very people who will listen, assist and offer really good ideas and information. Teamwork happens in many ways. All kinds of people stepped in surprised us in wonderful ways throughout Ben's illness, and they continue to do so. They have compensated for the people who disappointed us, because, of course, there's that, too.  Knowing that Ben was in the hearts of many always touched me, and it still does. Never underestimate the power of compassion and always be open to delightful surprises.
2. Be careful of the undertow.
Caregiving is overwhelming for so many reasons. Aside from the demands of the job, there is an emotional toll of helping someone you love deal with any disability or illness and watching them struggle. The "undertow" can take a caregiver and/or a caree to a place of extreme sadness, depression, loneliness and helplessness.  It's important to stay connected to the outside world, through your own network of friends and relatives, outside agencies, and social media support groups. Make lists of things and/or people that provide comfort, cheer, or assistance when the undertow starts pulling you down.
3. "I'm OK with crazy"- Hank
Illnesses are unpredictable and caregiving needs are unpredictable. Our moods are also unpredictable, particularly when we are stressed, exhausted and our Tangled emotions are turning us Inside Out (what can I say? Disney references work for me!) You have to be ok with crazy when many things are happening at the same time that you have many conflicting emotions. And, you have to be ok with crazy when attempting to handle crises. I remember thinking that crazy was my new normal. Perspective helps! So does humor.
4. Not everything is easy to do, but there is always another way.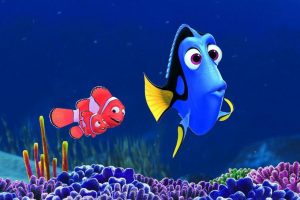 Creativity, resourcefulness and a good sense of humor can help to determine new approaches and perspectives on how to deal with issues. Don't be afraid to ask for help.
5. "News flash! Nobody's fine!" – Hank
In the most planned and organized day, there will be crises. They can be physical issues but they can also be emotional fallout. Caregivers and carees are not always at their best, though we would like to be. It seems to me that our default answer to "how is everything? " is "fine" and I've found that most people kind of want that answer because they don't know how to handle anything else. I have heard people with ALS and their caregivers says that it irritates them to be asked that question because people really don't want an honest answer and they don't want details. And, they don't want to feel obligated to do anything, even if there is no expectation of that. It's ok to admit that things aren't fine. That admission should not invite any judgment. And, it doesn't mean that things won't be fine again, even in a matter of moments. Remember, Hank taught us that we're ok with crazy!
6. An octopus may have 3 hearts, but it doesn't mean it's nice.
Yes, it's a fun fact, but it also lends perspective to our expectations of people around us. Ben and I were very fortunate to have lovely people around us, but we also learned that not everybody has a big heart, and having three probably would not have helped them either. Also, professionals are there to help, but, like all humans, there are more and less helpful and invested people. We were surprised in good and not so good ways.
7. Let someone know you love, care about and value them.
Marlin often gotten frustrated with Dory, but he realized that in her innocence, she was fearless and she got him to do "crazy things" like jump jellyfish and outsmart sharks to help find Nemo. His approach to problem solving became asking himself what Dory would do.
In the film, Marlin apologizes to Dory for not having told her how much she did for him. That's not a regret anyone wants to have. Take any opportunity to share kind and loving moments and memories.  The frustrations and resentments will ebb and flow, but the appreciation and love we have for each other should always flow.
8. "What is so great about plans?"- Dory
We certainly need to have plans in place, and even back-up plans, but when you're dealing with illnesses and caregivers, you're also dealing with human beings and unpredictable factors.  For example, I prepared to go to work every day, but there were days that I had to stay home at the last minute for a variety of reasons. I remember that on some of those days, my feeling Ben's very loving appreciation and his feeling my unwavering devotion, made for beautiful days. You know you have to be prepared for anything, but expect the unexpected in good ways, too.
9. You can do whatever you put your mind to.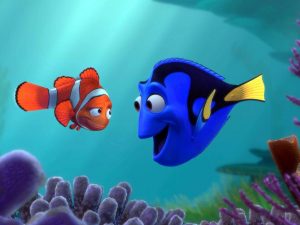 Dory may have suffered from "short-term remembery loss," but she dove in and figured out what she needed to do to find her parents. She enlisted her friends to help her and remained determined. She didn't give much thought to consequences, which did create some problems for her along the way. But, she forged ahead. Caregiving can be very overwhelming at times, in terms of the actual tasks and in thinking about the future. But, I always come back to Christopher Robin's wise advice to Winnie-the-Pooh: you are braver than you believe, stronger than you seem, and smarter than you think.
10. Never underestimate the power of a cuddle party!
I am kind of obsessed with river and sea otters, so those litter critters stole my heart in the film. But, they are a strong reminder that a little bit of whimsy, sweetness, and cuteness can lighten any moment. For Ben and me, that often came in the form of generally anything Disney. My huge collection of Disney toys to cuddle didn't hurt either! I have added a couple of cute little otters to my collection. They all comfort me now in grief, too.
11. Sigourney Weaver rocks! You need someone like her on your side!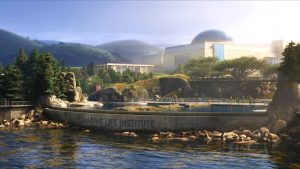 Whether standing up to aliens or lending her voice to stand up for our marine life, she is a star! Sometimes I felt like that person for Ben, and at other times I felt completely inept. But I'm going to always keep reaching to be a rock star (well, maybe more of a Broadway show tunes or Disney star!)
All photos: Finding Dory, Pixar Animation Studios and Walt Disney Pictures, 2016