On June 19, 2002, Lilo and Stich (Walt Disney Pictures) was released. But, today is Experiment 626 Day! I have loved Stitch since I saw that film. When Ben and I went to Walt Disney World and I had read that Stitch could be found at the Magic Kingdom, I was on a mission to find him. Ben was very patient!  In honor of the film and my buddy Stitch, here are some photos from our visits to Walt Disney World over the years. Ben liked taking pictures of me with Stitch because he was my good buddy and Ben got a kick out of that. I look at those photos and even though Ben was the photographer, in my mind and in my memories, he is so present in those moments and I can vividly see him laughing. I am so grateful for these memories.
I think the funniest memory I have is from our 2012 trip. Walt Disney World has many and great accessible restrooms, which made life much easier for Ben. I would get Ben situated and wait outside because he couldn't walk to lock the door. Also, I could hear him if he needed assistance. One day, while I was waiting for Ben, Stitch walked by and I yelled hello to him. OK, yelled a lot, with much waving. Moments later, Ben called to me. As I helped him into his scooter, he couldn't stop laughing, imitating my calling Stitch and saying that he started wondering how he was going to get himself out of the bathroom because he knew Stitch was one of my favorite friends and he thought I might abandon him! I did not! And, I'm not telling if I thought about it!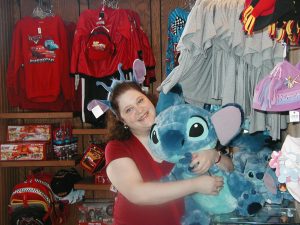 On our last visit in July 2014, Ben knew that one of the things I had always wanted to do was have breakfast at the Polynesian Hotel with Lilo and Stitch. I had not mentioned it while planning this visit because it was a long commute from our own hotel and I didn't want to tire Ben. Even in an electric wheelchair, transferring and navigating was exhausting to him. But, Ben wanted us to have that experience. I think Ben wanted to laugh at me gushing at Stitch, which, of course, I did! Stitch was his adorable self, as was Lilo. They were very attentive and considerate of Ben and his inability to get out of his seat. It was an incredible time that I will never forget, particularly wonderful because it was a brand new memory, as opposed to memories we were trying to recreate to almost try to turn back time to the days before ALS. Also, because it meant so much to Ben to do this for me, at a time when I was doing so much for him. I will never forget the magical connection that Ben and I felt when we were at Walt Disney World and the way that Stitch and our many Disney friends helped us to transcend the realities of ALS.
I am equally grateful that I had an opportunity to create new memories with my buddy Stitch, when I returned to Walt Disney World in 2019. It was a wonderful time with Monica, Snappy and Andi, and an important milestone and lesson that I can return to this place that is such an important part of Ben's and my story, keep him in my heart and even feel his presence, but step forward to live, love and laugh.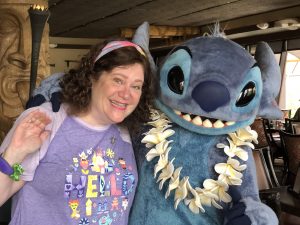 Happy Stitch Day!