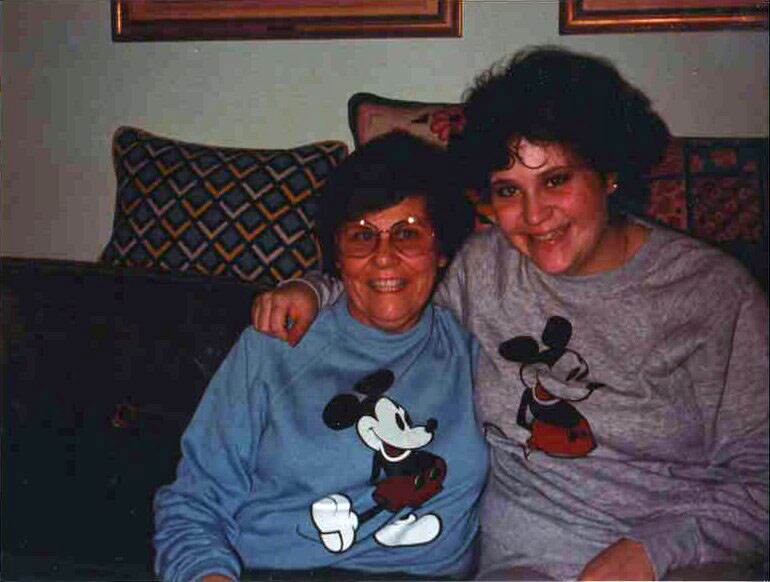 Today is Mother's Day. My grandmother believed that every day should be Mother's Day. The truth is that when my mom was alive, every day WAS Mother's Day. We were so close that we did not need an actual holiday to celebrate that fact. After I lost her, and then my grandma, I can't say that this holiday was like other milestones in terms of evoking debilitating sadness. There was a feeling of not belonging, the sting of realizing that I didn't have their close and unconditional love anymore and the knowledge that my celebrations with them will have to live in my memories. I spent the day at the theater, which is something I enjoyed with my mom, but something that always brings me joy and peace. Living in a house with Grandma, in some ways I grew up with two mothers, and I honor both of them today.
I think about the importance of mothers in Disney films. In many of the animated films, mothers are not present, having died at some point in the childhood of our favorite characters. I have been moved by more recent live action Disney films, where adults and children show emotions and vulnerability as they deal with loss and grief. The films show us that it is okay to be sad and help us to see that people we love and lose stay close in our hearts. This touches me deeply, and it is such an important message for children who are grieving. I previously shared this clip from the live action Cinderella, where Cinderella's father advises her that they must always cherish their home because her mom was the heart of it, and they must honor her. Cinderella was my first favorite princess and she remains dear to my heart. I especially love that in the live action film from 2012, we meet Cinderella's mother, who imparts the important advice, "have courage and be kind." But we see how Cinderella and her father work through their grief and how Cinderella must then cope with the loss of her father. I keenly relate to how she acknowledges the ways in which she her parents with her and honors them in her actions. The way that she chooses her mother's dress and asks her Fairy Godmother to keep the butterflies because of her mother validate my own gestures. They are also good ideas to share with children who are grieving.
In Mary Poppins Returns, Michael Banks (yes, all grown up and with his own children) must cope with the loss of his wife and help his children. He lets them know that their mother lives in their hearts and memories. He explains, "Your mother's not gone. She's in your smile, and your walk, John, and Annabel's eyes. She'll always be with us wherever we go."
I love when people tell me that they see my mom and dad in me. To this day, I have a hard time when I see that restaurants and shops that I visited with my mom or Ben have closed. It feels like I have lost tangible evidence of our memories, taking them further and further away. I sometimes need to remind myself that I carry all of those memories and the relationships within them in my heart, and by sharing them, I pass them along.
 Mary Poppins sings a wonderful song, The Place Where Lost Things Go, in which she suggests:

Maybe all you're missing lives inside of you
So when you need her touch and loving gaze
Gone but not forgotten is the perfect phrase
Smiling from a star that she makes glow
Trust she's always there
Watching as you grow
Find her in the place where the lost things go.
(Composer: Marc Shaiman; Lyrics: Scott Wittman)
As time has passed, I think mostly of the wonderful memories of my mom and Grandma and our time together. I cherish my memories to keep my mom's and grandma's spirits alive and honor them. So much who I am and what I do reminds me of them. I get my Peter Pan-like inner child spirit and love of Disney from my mom. You won't be surprised that one of my favorite memories is when my mom called me from Walt Disney World exclaiming, "Abby, I met Mickey!" My mom was the only truly selfless person I have ever known and I hope that in some small way I have followed her example. Every time I bake, I feel Grandma with me, and she is a part of all my creative and artistic endeavors, as well as my fashion choices. I believe natural caregiving skills, which even extend to my students, were instilled by both of them.
Now, I am a devoted mom to my cat, Tinker Bell, as I was to Disney and Tiffany. My mom- well, my whole family- loved our pets, so their influence was present even as I cared for Disney and Tiffany as they coped with several illnesses. Tinker Bell. Today, as on most days, she is curled up next to me, napping and then waking up to chat and, I imagine, say "Happy Mother's Day!" With some coaxing, she let me hug her and take a selfie as her gift to me.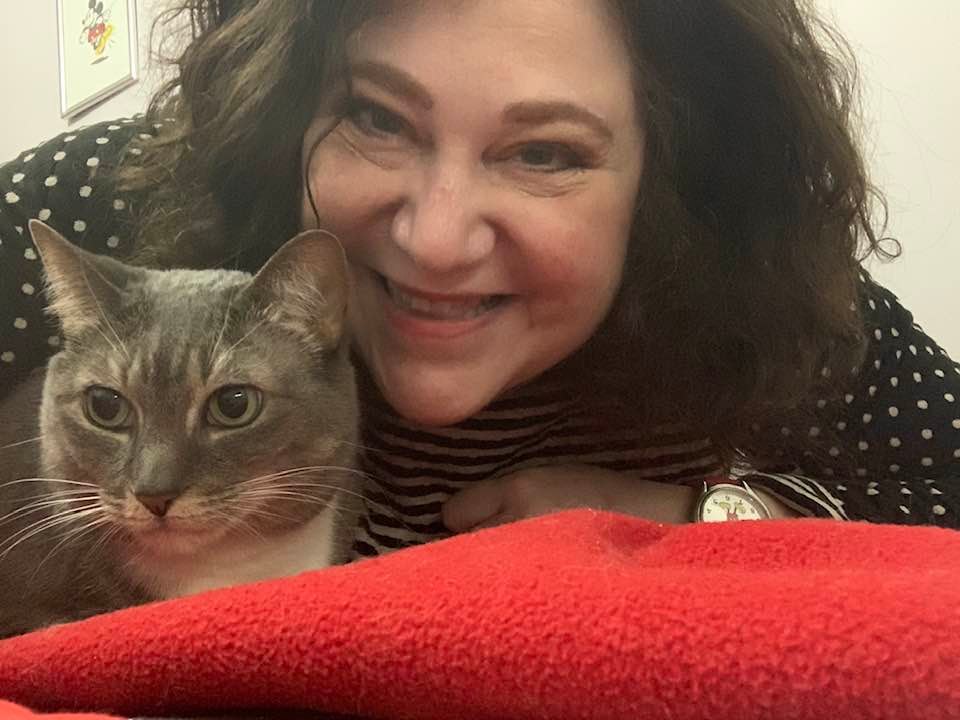 I do know that my mom and grandma are always with me. There is not a day that I don't think of my them and I so frequently speak of them that sometimes people are surprised that they have been gone for more than 25 years. I am proud to honor them on Mother's Day, though in truth, I celebrate, treasure and miss them always.