(I wrote this late last night) Today, October 27, is my birthday. My fourth birthday without Ben. I still seem to measure time that way. It's still emotional to think of celebrating events without him. I can't seem to feel happy. I want to indulge in that childish delight about a birthday, but I can't shake the sadness. I always struggle on milestone events with not having Ben or my mom, dad and grandma- the people I was closest to- with me. Yet, it's not just that, or guilt about continuing to navigate life when they aren't here and conveying in any way that they are even a little bit forgotten. I don't feel comfortable celebrating myself and, although I am so grateful for good friends and birthday wishes, I am much more comfortable celebrating other people. Maybe that says something about my self-esteem as much as it does about grief, which is definitely something I need to think about.
I made plans with a good friend to go to the theater, which is always one of my favorite things to do, and I preferred to think about a show rather than my birthday. It was a nasty day with a nor'easter, which seemed fitting for my mood. We saw Oklahoma! At St. Anne's Warehouse in Brooklyn, and although we were looking forward to exploring DUMBO, a neighborhood I had never visited, the storm limited our plan. I knew to expect that the show was a dark interpretation, which was sort of unusual for this musical, but also appropriate for my mood. Throughout the day, I got sweet texts and calls and posts on Facebook, which touched my heart. I really wanted to be happy, but trying to act happy actually made me sadder. Ironically, if it had not been my birthday, it would have been a perfectly great day. Maybe the March Hare was onto something when he talked about a very merry un-birthday. I find joy in so many things and from so many people. Those are my "un-birthday" gifts.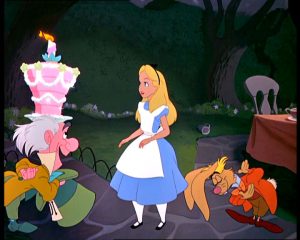 I think about the wonderful birthdays I had with Ben. I loved that he always wanted me to feel special on my birthday, and he often planned little surprises for me. That was more about the romance than about the birthday. Now, I feel awkward making or being a part of the planning of my birthday plans. For so long, I defined myself by the way I cared for my dad and Ben. I planned surprises for Ben and took opportunities to celebrate him and us whenever I could find them. I need to learn to feel the confidence and comfort in taking care of and acknowledging myself.
Once again, after a good cry, I comforted myself with the memories of birthdays with Ben. I've shared these in prior posts, but please indulge my sharing some of my favorite Walt Disney World birthday memories with Ben:
The time I asked Mickey how old I looked and he held his hand up and I asked if he thought I looked 5. He shook his head and held his hand up again and I asked if he meant 50. This went on for a while until he held up one finger at a time and I realized that he only had 4 fingers. He looked up at the ceiling and held his hand to his forehead and when I looked over at Ben, he and the PhotoPass photographer were laughing hysterically. Ben couldn't believe that I didn't know my Disney buddies had 4 fingers and he said the photographer was laughing so hard that she couldn't take a picture. From that point on, Ben and I only "high four-ed" each other.
The birthday holiday we took there when Ben proposed to me. The actual proposal was on Halloween because he knew I would love that. I did.
Birthday hugs from Pooh, Eeyore, Tigger and Piglet at the Crystal Palace, because I had to have birthday lunch with my friends from the 100 Acre Woods. I was as gleeful as a 5-year-old when the waiters sang "Happy Birthday" to me. Ben surprised me with a cake once and Pooh kissed my hand. I've kept all the confetti and the birthday cards.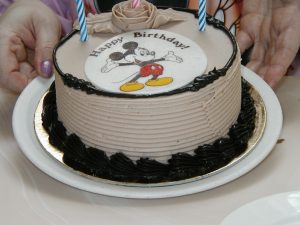 The little girl at the Akershus Restaurant whom I noticed was intently watching Ben and me as we struggled a bit to get him into a chair and then as I cut his food and helped him to eat. When she saw the waiter bring me a little cake with a candle and sing happy birthday to me, she came over and wished me a happy birthday and gave me a hug. Kids have such intuition, and her mom and I both had tears in our eyes.
Dancing with Stitch and Goofy at the Halloween party while Ben sat in his scooter, laughed at me (with love) and videotaped it. As if anyone who knows me would be shocked!!
Getting extra candy when we went trick-or-treating at Mickey's Halloween Party because I announced that it was my birthday, probably more excitedly than most of the little kids. Between Ben in the electric wheelchair and my birthday, we did very well collecting candy!
Having so much fun tasting the foods at the various pavilions during the Food & Wine Festival. Even though he needed help with food, and he couldn't eat everything he wanted, Ben loved to be at Epcot and he didn't let himself lament what he couldn't do or eat.  His attitude was incredible.
And then there were the magical birthday surprises that were not spent at Walt Disney World. There was a time that my birthday fell on parent teacher conference night. Ben and I had decided that we would celebrate over the weekend instead and it was no big deal. He picked me up at school, as he always did after evening events, and when we got to my apartment, I was delightfully surprised to see that he had decorated with balloons, flowers, a cake and some of my Disney toys all around the decorations. He had done all of this after work and before meeting me. That was Ben-always romantic.
I am grateful to always have those very sweet memories, and so many more. I grieve for the birthdays I won't have with Ben, and also for the birthdays he won't have. But, I've often felt his presence and I know that he is with me, as are my mom, dad and grandma. People say that Ben would want me to be happy and to celebrate. I'm sure that's true, but it still doesn't feel quite right. Maybe it will feel better on a very merry un-birthday!