Today, February 21, is Ben's birthday. I've been suffering from vertigo and horrible back pain that I think is sciatica, so, physically, I am already feeling pretty lousy. This is another of the February milestone dates that I dread. It is the fourth birthday without him, and I can't help but ask myself how many of his birthdays I am going to feel like this. The truth is that I have gotten used to the waves of sadness and loneliness. I didn't know how I would feel today but I go with the flow of my emotions. I don't convince myself that I have to be miserable, I don't punish myself, and I don't anticipate anything other than that I don't know how I am going to feel and that I will be okay with whatever mood hits. The sadness and loneliness don't paralyze me the way they did, but the bursts of tears remain.
I miss Ben and I think that's okay. I miss making a fuss on his birthday. When he was homebound, I decorated our apartment after I put him to bed so he would have a fun surprise in the morning. He knew I was decorating but never knew exactly what he would find, and that delighted him. I also looked at the video that I made on his birthday the first year I was without him, which I have placed here again. There are photos of his birthdays and other happy occasions, and, of course, some Walt Disney World photos. Some were taken when he had ALS and some in the pre-ALS days. The love was always there, so I embrace all of the memories. I guess it will always be jarring but sweet to hear The Beatles', "Happy Birthday." Ben woke me up with that song every year on my birthday. Now, I am playing it for him. I find it comforting to revisit beautiful memories. That doesn't mean that it doesn't come with tears, but tears are okay. So are smiles.
This year, I'm fairly homebound given the way I'm feeling. That is certainly reminiscent of the way we celebrated Ben's birthdays. This year, however, I have a new little baby. Having lost my sweet Disney, I brought home little Tinkerbell on Monday. The organization that rescued her listed her birthday as January 29, because that is the date that she was found. However, I gave her the birthday of February 18, which is the day I brought her home. It is my one happy February date amidst of several sad milestones.
Tinkerbell is quite small. At two years old she weighs less than 8 pounds, so she's almost fairy sized! Disney, when she was healthy, weighed about 16 pounds and so did Tiffany. Tinkerbell is an affectionate, sweet little girl who follows me everywhere and within one night was already sleeping against my feet. She has a tiny little meow, too, that almost sounds like Tinker Bell's jingle-talk!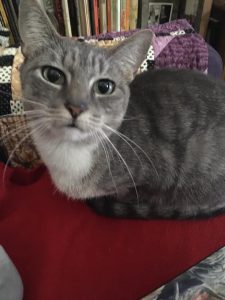 Although it's barely two weeks since Disney went to be with Ben, I realize that I am at my best when I am taking care of someone, human or otherwise. Caregiving taught me that. In the moments, it was not always a lesson I wanted to learn. In fact, at times I resented it. Of course, I needed help so I was sometimes sinking in the tasks and emotions. But, as I have said before, caregiving was the most loving, meaningful and important work I have ever done. I continued it with Disney, as she got diagnosed with diabetes just after Ben left this world, and then continued to have more and more health challenges.
I hope that Tinkerbell, or "Little Bell," as I've been calling her, has a long and healthy life. She's a wonderful joy in my life right now, and today I will talk to her about Ben. He would be very happy that I called her Tinkerbell (I spelled it a little differently). We loved Tink and the fairy films. We often watched them before we went to sleep. It always made me chuckle that he loved Pixie Hollow Games and would often watch it even when I was not home. Then, he would remind me that he was macho before he met me.
One of my favorite Tinker Bell related memories was from Walt Disney World. We met Tink and her friend Terrence in Pixie Hollow, where, of course, we were shrunken to pixie size. Terrence was so extravagantly in character, having particular fun because we were adults (well, technically- Ben probably would not have vouched for my maturity level!)  and I couldn't stop laughing. The photographer caught this photo of Ben laughing at me. It remains one of my very favorite photos of him, especially because it was when his ALS was progressing and we truly treasured the laughter. Today, I want to remember that laughter.
I will have my usual Disney movie marathon of Ben's favorites- Monsters, Inc., Mulan, Toy Story (1,2,3) and The Incredibles. I will also show Tinkerbell the Tinker Bell films so she can see the feisty fairy for whom she is named.
This year, my physical feelings happen to match my emotional tension, but I want anyone reading this to know that, at least in my opinion, there is no "right" way to deal with events like this. If I had felt like I did not want to do anything special for Ben's birthday, and just share a quiet thought of him, that would have been fine, too. I feel no compulsion to defend myself. That, in itself, feels like progress!
As I wrote last year, there is no candle on a cake now, but always wishes that he is comfortable, and running, singing and eating to his heart's delight. And, wishes for a cure for ALS, because wishes do come true.  As Cinderella's Fairy Godmother says, "even miracles take a little time."
When Ben proposed to me at Walt Disney World, he asked me to be His Minnie. So, on his birthday, I say
Happy Birthday, My Mickey!
With much love and pixie dust,
Your Minnie