I dutifully counted down the days on my Halloween calendar figurine and here we are- today is Halloween. My fourth without Ben.  Being home with bronchitis is adding to my melancholy. I did find comfort and joy in using that figurine. It made me smile to think about how Ben loved it and it felt good to honor that tradition. Stuck inside, I won't see kids dressed up or give my students candy, though that will happen when I return. I will look at our photos and videos, listen to my Walt Disney World Halloween music, and reminisce about how much fun we had at Walt Disney World on Halloween. Halloween was truly magical there- after all, Ben proposed to me on Halloween at Walt Disney World.  It was perfect!
I did bake Halloween cookies and make Halloween cards with a photo of Disney. As I've said before, baking and decorating cookies is like my therapy. I am able to relax and get lost in the whimsy. I tried hard to embrace my decorations (click here for that post), acknowledging that I was able to begin to embrace the Halloween spirit that, until this year, had left me along with Ben. Now, I'm more of a participant in the holiday, but I don't feel the gleeful whimsy that I felt with him. I look at footage from Walt Disney World's Mickey's Not So Scary Halloween Party and although part of me would love to experience it again, I wonder if I will ever again be able to attend that celebration.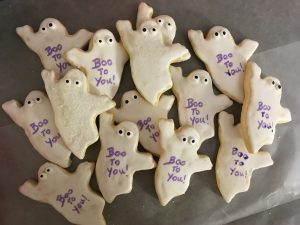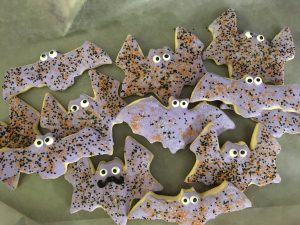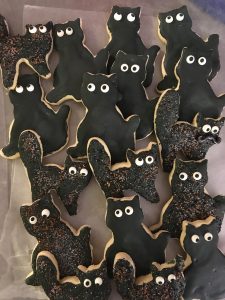 Without distractions at school, I'm surrounded by only memories, albeit good ones. Every year, I've made a calendar that is a collage of favorite photos from Walt Disney World. It was a very positive process to make these calendars. I made them for Ben when he was here, too, since he loved to be surrounded by our photos. As you can see, October is filled with Halloween memories. I rejoice in them because Halloween is a treasured part of our relationship. At the same time, I grieve for Halloweens and other events, and even non-events, that we won't have. And, over the past several months, I've struggled with anger that he was cheated out of so much life.
Understandably, the most poignant memories were during our visits after Ben's ALS diagnosis.  I think about how Ben was embarrassed to meet Buzz Lightyear when he was in the scooter. Ben loved Buzz, but after ALS began to weaken him, he said he didn't want to meet Buzz because Buzz was a strong super hero. I think he agreed to meet him more for me than for himself, though he thoroughly enjoyed watching Buzz interact with the kids on line and he had a child's excitement. He was able to walk a bit with his cane at this point, and he wanted to stand with Buzz. We were never much for dressing up for the holiday, but Ben loved the Buzz shirt we found and I wore Minnie Halloween ears. Buzz made such a fuss over Ben's shirt and he made Ben laugh, which made me so happy. Those are the important and beautiful memories. Ben truly did embrace life while facing death. Yes, some of that was denial, but much of it was inner strength and determination, and I believe it helped him to navigate life with ALS in a positive way.
I'm still proudest of our summertime Halloween- our last but most magical visit to Walt Disney World. Here's a link to that post. I hope that it offers some inspiration to anyone struggling.
Ben did say that when the time came, he was going to be a grim grinning ghost at the Haunted Mansion. I hope he is and that he is having a ghostly good time.
I wish everyone a Happy, Not So Scary, and Healthy Halloween!