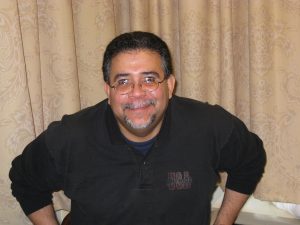 Interfaith Memorial Service
Visiting Doctors Program at Mount Sinai Medical Center, New York City
June 6, 2016
Ben was my boyfriend, my fiance, my husband for a few hours and, since we shared a tremendous love of Disney, I think it's fair to say that he was sometimes my prince charming, and sometimes my monster and that he will always be loved, as Buzz Lightyear says, to infinity and beyond.
Ben had ALS, Lou Gehrig's disease and he left us on August 26, 2015.  But, I don't want the ugliness of that disease, or my role as a caregiver, to be what defines him or my memories. I do always want to remember how truly brave he was and the wonderful times we had.
Ben was funny, smart, silly, creative, romantic, devoted and sensitive. He loved music- listening and playing. He also loved building and fixing computers.  It was hard for him to lose his dexterity. I became his hands for fixing, but he did miss doing that work himself and he missed playing his keyboard, soprano sax and guitar. He did continue to use the computer every day. He also surrounded himself with music- Beatles, Disney, Salsa, Rock 'n Roll, Classical… He loved it all.
Our first visit to Disney World together was Halloween 2001- it was our favorite holiday, celebrated the not so scary Mickey Mouse way, and we had so much fun, especially trick-or-treating and trading candy like the little kids. We went back many times. He even proposed to me on Halloween at Disney World. Despite scooters, electric wheelchairs and assorted other challenges, Ben let his inner child shine and he indulged mine. I loved that about him. The Disney magic gets you, and somehow we really did believe that Mickey could help. And maybe he did, because Ben did pretty well with the disease for more than 4 years. And, we were able to return 4 times after his diagnosis.
In July 2014, I took Ben to Disney World for one last visit. I wanted to plan a trip that neither of us would ever forget. It had its challenges, and we brought another caregiver with us, but Ben was determined to have an incredible time, and he did. We did some new things, including a night time pirates cruise where we could see the Magic Kingdom fireworks and he got to meet Captain Hook.  I knew Ben (and I) would miss being there for Halloween, so I worked with the fantastic Disney World team to surprise him with our hotel room all decorated for Halloween. I remember his face when we arrived outside of our room and there was a big banner with a pumpkin and blinking lights that he thought was a promotion for Halloween and he got so excited. He was completely blown away when I opened the door and it was like entering the Haunted Mansion, which Ben adored. We kept all of the toys and decorations and I brought them to his room in the hospital to share good memories and Halloween.
We lived on the second floor of a walk-up,  so Ben rarely went out once he could not use his legs anymore. I am so grateful to the Visiting Doctors Program for making it possible for Ben to get regular care and support- medical, physical and speech therapy and social work. I even loved that he just had company. Ben looked forward to visits from Dr. Muller and the students. He also enjoyed texting with Laura and I am so grateful to her for that. Since I was working, and for a while juggling being a caregiver for my dad and for Ben, it gave me tremendous peace of mind to know that there was an amazing team of people who could help Ben.
It just didn't occur to me when Ben entered the Emergency Room at Mount Sinai on July 6 of last year, that  I would never hear his voice again. That he would never leave the hospital. But he stayed strong and very brave. Knowing that Dr. Muller was an email or even steps away was the one thing Ben depended on that I knew would keep him calm, and over time he also came to give me a sense of security and be the voice of reason and compassion who could make us smile even when things were not good.  I am glad that Ben had an opportunity to tell Dr. Muller that he loved him, and I will always be indescribably grateful to Dr. Muller for the many ways he has been there for Ben and for me. Laura was also someone Ben opened up to and I can never express how much that meant.
Ben could often be found looking at our photos and videos from Disney World. So, to further surround him with those images, I made him a shower curtain and quilt of those pictures.  He was also obsessed with t-shirts- many from Disney World but also from other places and times, and I took those and had quilts made for his daughter, Nicole, and me. It's a comfort to wrap myself up in good memories.
As I said, music was a huge part of Ben's life, and he loved the Beatles. On his last day with us, he was able to hear his favorite Beatles song, "In My Life,"  and some Disney and other songs, beautifully played by Todd O'Connor on the guitar. Ben really appreciated live music so I know how much peace that gave him.
Since Disney was our lifeline and is always my comfort and joy, I will share with you something that Christopher Robin said to Winnie the Pooh: If ever there is a tomorrow when we're not together.. there is something you must always remember. You are braver than you believe, stronger than you seem, and smarter than you think. But the most important thing is, even if we're apart… I'll always be with you.