The following piece first appeared on the ALS Worldwide web site. Please click here for more information about this wonderful organization. I believe that those of us who have experiences with ALS need to share our perspectives to broaden awareness and promote involvement in helping to cure and manage the disease.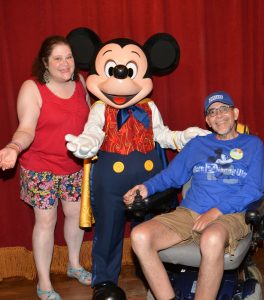 Ben Carrasquillo was my husband, and since we shared a tremendous love of Disney, I think it's fair to say that he was sometimes my prince charming and sometimes he was my monster. He will always beloved, as Buzz Lightyear says, "to infinity and beyond." Ben died on August 26, 2015 after bravely fighting a six-year battle with ALS. Memories do give me great comfort, despite the tears they bring.
So many of my memories with Ben are from Walt Disney World (WDW). Our first visit there was Halloween 2001. It was our favorite holiday, celebrated the not-so-scary Mickey Mouse way, and we had so much fun, especially when trick-or-treating and trading candy like the little kids.
We went back many times and he even proposed to me on Halloween at WDW. Despite scooters, electric wheelchairs and assorted other challenges, Ben let his inner child shine and he indulged mine too. I loved that about him. The Disney magic gets you, and somehow we really did believe that Mickey could help. Maybe he did, because Ben did pretty well with the disease for more than four years. We were able to return four times after his diagnosis. Those visits really became about reliving and making memories that we could always hold in our hearts.
In July 2014, I took Ben to WDW for one last visit. I wanted to plan a trip that neither of us would ever forget. It had its challenges – we had to bring another caregiver with us – but Ben was determined to have an incredible time, and he did. We did some new things, like a nighttime cruise where we could watch fireworks and meet characters. I also worked with the fantastic WDW Floral and Gifts team to surprise him by having our hotel room decorated for Halloween. His face lit up when we arrived outside of our room and there was a big banner with a pumpkin and blinking lights. He was completely blown away when I opened the door – it was like entering the Haunted Mansion. We kept all of the toys and decorations, and I brought them to his room in the hospital to recall those good times.
Although I cannot deny that there are tears for the ALS struggles and for the times we won't have anymore, I am so thankful to be able to remember him smiling and laughing. I love the simple memories: Ben playing air guitar while the band played in the England pavilion at EPCOT, his trying on character hats and choosing t-shirts in the souvenir shops, our holding hands as we watched the fireworks displays, and his enjoying the freedom of getting around with the electric wheelchair.
Though some people look at the pictures and see how he became very thin with very swollen feet, and that he was wheelchair-bound, I see and remember the joy on his face.