I saw this quote with an image from the Walt Disney Productions animated film. In fact, it is from the book by Lewis Carroll. Still, it's a great quote that I could relate to, particularly after my caregiving experiences. After reading the quote, I re-watched the original 1951 version of Alice in Wonderland and the 2010 live action remake. Although I have to admit that they are not among my favorite Disney films, there is a lot of wisdom and insight, as well as some welcome sarcasm, that helped me reflect on the impact of caregiving on my relationship with myself and with others.
My dad's cancer diagnosis and then Ben's diagnosis of ALS plunged me down a rabbit hole, alone, devastated and confused. I wanted to be the little girl who was taken care of, but suddenly I had to deal with very adult realities and take care of my loved ones. The teams treating my dad and Ben gave me instructions and details that sometimes tugged at my own beliefs and my emotions. Especially difficult was taking on the role of parent with my own parent. Instead of being the child protected by my dad, I found myself fighting his negative attitude and working with doctors and nurses to make important decisions for his treatment plan while convincing him to comply with orders because he could have a good quality of life. While ordinarily soft-spoken and shy, I learned that I could be a fierce and resourceful advocate. I was insistent and relentless when it came to getting the most appropriate services for my dad and for Ben. There was a lot of information and I was given a lot of advice, and I frequently felt out of control. There were so many people- professionals and people close to me- telling me what I had to do and how I had to deal with things and, when I was spiraling downward, I very easily took direction. But, there were also times that I felt like I could take the reins and make my own decisions. At those times, I did what I felt was necessary, regardless of judgments and disagreements. That was not always easy for the people I had relied on who were used to directing me, especially those people who naturally like to take control and give direction (I do wish I was a little bit more like that!). As difficult as it was for some people to see me making more of my own decisions and taking a stand, it was hard for me to change my own self-perception. It was also hard for me to say no to people, or to express my disagreement. I listened politely, even if I did not heed the advice, because I did not even have the inner strength to disagree. I guess I generally fall into the category of "people pleaser." To be fair, I believe that people had our best interests at heart and I appreciated that. But, as I saw myself successfully handling more caregiving responsibilities, and my dad and Ben became more and more reliant upon me as I gained better understanding of their feelings, I felt my confidence growing, and with that came a growing resistance, accompanied by some discomfort, to automatically complying with what I was told I "had to" or "should" do.
Tapping new sides of myself- stronger, more vocal, more responsible- definitely has come with growing pains. The "Abby" I was most familiar with was compassionate and caring, but also emotional, indecisive and insecure. Suddenly, I was able to see myself as braver and more assertive. Who was this person? I was always someone who second-guessed myself and relied on the opinions of my friends and family. I valued and depended on them and still value their thoughts. But, I also learned that I have to go with my gut sometimes and I can stand my ground. Learning to trust myself has not been an easy process for me, and it has not been easy for some of the people who became used to nudging me forward.
As Ben's ALS progressed, and things became much more difficult than Ben was willing to admit, I was frustrated and overwhelmed, and also resentful. I was struggling with those feelings because Ben was dying and I felt that if he wanted to live in denial, then I had to accommodate that. I gave myself all sorts of advice, having internal dialogues about insisting on more paid help, requiring Ben to prepare legal documents to make other important arrangements, and making scheduling changes that might have made daily life more tolerable. I had a lot of good ideas! But, I rarely followed my own advice. At times, I got angry at myself and felt helpless and defeated. I'm sure that it frustrated people who cared about me to see me drowning as I had a good sense of what needed to be done but lacked the emotional ability to make it happen. I have thought about that a lot, and, to this day, although I know that a lot was not right about the situation, I know that Ben felt cared for, protected, and loved. Sadly, I achieved that by often ignoring my own good advice.
I cannot begin to count the number of times I wished that something in my life would make sense. Juggling caregiving for my dad and Ben would have been comical if it was not so serious. There were middle of the night calls from my dad when he was deciding if he should go to the emergency room. If he went, I would ensure that Ben would be okay and arrange back-up if he needed help, and then I would meet my dad at the hospital. From the hospital, there was an endless string of calls and texts to report on my dad and to check on Ben. There were the ridiculous restrictions of what insurance would cover, when clearly ALS is a terminal disease that renders a person needing much care. There were my klutzy attempts to address the needs of Ben and my dad, which they denied were increasing, while trying not to upset or discourage them. There were the routines we painstakingly created that had to be immediately scrapped because Ben exhibited a new symptom of ALS that rendered the plan useless. We just wanted something to make sense. That never really happened, but we embraced it as our new normal, with a sense of humor when possible.
I do love the whimsy and fantasy of Disney. But, if you follow this blog, you see that there is a lot of inspiration and insight in the films, and it helps me. Although I find comfort in thinking about wishing wells and fairies with pixie dust, my life and decisions are quite grounded in a reality that was, for several years, anything but rainbows and magic. As a caregiver, and then in grief, it has been so important for me to surround myself with the things that gave me comfort and let me at least mentally escape. I could get lost in fantasies in the same way that Alice dreamed about creating a world of her own. For Ben and me, Walt Disney World was that special world of our own. Disney films, toys and memories still give me that much needed opportunity to fantasize, but also help me to sort through ugly experiences that come with caregiving and loss. It is so important for caregivers to identify and retreat into the things that provide comfort, insight and perspective, even if it is a momentary escape from the comfort of your sofa.
Here are two great phrases uttered by the March Hare that I wish I had said often, and I pass along to other caregivers, with the hope that it will help you to avoid unnecessary and sometimes downright outrageous conversations with well-intentioned people who are not involved or informed but have a lot of bad advice that they are eager to spout.
OK, you might want to say that more tactfully, but think it just like this and at least you'll have a chuckle in your head!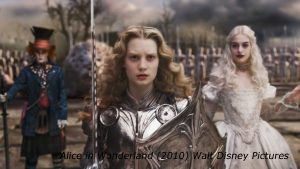 As I emerge from grief, I don't always recognize myself or know exactly who I am or who I want to be. I feel like I've changed. But, I can finally say with some pride that, despite my tears, I faced and handled some very difficult situations with and on behalf of Ben and my dad as they took their journeys from this world. There were times that there were conflicts with family and friends, but I honored the wishes of my dad and Ben, and I did what I believed was best and was most consistent with their wishes.
I know that my loved ones want the best for me and that means the world to me. But I also realize that as much as I have gratefully relied on others to guide me when I run in circles, I have to move forward at my own pace, shaping and fulfilling my own dreams on my own terms. I have to determine where I want my life to go. And, I am fortunate that I am surrounded by people who are cheering me on. I do have some inner struggles, and, in a few cases, relationships that I do care about have been strained and tested, and that has not been easy. But, as the White Queen said to Alice, "You cannot live your life to please others. The choice must be yours, because when you step out to face that creature, you will step out alone." This was also true for Ben and my dad as they faced death, and it is true for all of us.
In the live action Alice in Wonderland, Alice must slay the Jabberwocky to defeat the evil Red Queen. As caregivers, we have our own Jabberwocky to defeat, as we tackle trying circumstances and help our carees battle the demoralizing and painful effects of illness. Though we cannot defeat death, we are fierce in our battle to slay many obstacles and provide as good a quality of life as possible for the carees whom we love.