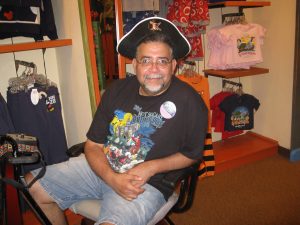 Just a little post in honor of National Talk Like a Pirate Day. Ben always got a kick out of this day because he loved to talk like a pirate. Pirates of the Caribbean was one of his favorite attractions at Walt Disney World, and one that quickly became too difficult for him to navigate because of the big step onto and off of the boat. The special ringtone I had for Ben's phone calls was "Yo Ho, Yo Ho, a Pirate's Life for Me," the song from that attraction. In fact, I listened to various versions of that tune today but I will never use that ringtone again because it is forever Ben's.
On our last visit in July, 2014, I surprised Ben with the Pirates and Pals fireworks cruise at the Magic Kingdom, where he got to meet Captain Hook and Mr. Smee, and even Peter Pan. It was a wonderful time and a beautiful memory.
When I saw that today was National Talk Like a Pirate Day, I smiled and thought about Ben laughing and making his pirate sounds. It's good to be able to smile at the good memories. There will always be a sting at what we won't share ever again, but it's a gift to be able to picture his smile and laughter and have such a joyful memory. Healing happens.  Yo ho, my Ben!