My third Halloween without Ben. Though it is not traditionally a romantic holiday, for me it is, because it is the day that Ben proposed to me at Walt Disney World. I still have not been able to decorate with our Disney Halloween decorations. As I watched the little kids going to school in their costumes, I remembered how much Ben and I loved to see the cute children at Walt Disney World. I know that if he was still here, that I would have returned home to find him watching our Walt Disney World Halloween videos, bopping his head to the music and saying "Boo to You!" as they say in the parade. We would have looked at the photos and videos together and laughed at the memories while we fantasized about a new visit. Even when the ALS was progressing, Ben constantly went on the Walt Disney World web site to plan fantasy holidays. Frankly, I think it was healthy and helpful to him to stay hopeful and engaged in life. It's hitting me hard that although I am so grateful to have the wonderful memories, I am saddened, and feeling a little lost, that I can no longer look forward to Halloween Disney adventures with Ben. That's a tough part of grief. As I feel like the sharp pangs lessen a bit, the day to day realities, and thoughts of an unknown future, unexpectedly set me back.
One of my favorite memories, though bittersweet. After his ALS diagnosis, Ben was reluctant to meet Buzz, because he said Buzz was a super hero and he was weak. When he did decide to greet him, Buzz made such a fuss about Ben's Buzz shirt (his Halloween costume) and Ben loved it. It gives me comfort and joy to remember Ben's delight.
Every day my commuting routine is to listen to a special play list of special "Ben" songs. This morning, after those songs, I listened to the Walt Disney World "Hallowishes" parade music- Ben loved it even more than I did. The music did not comfort me. Although I love to picture Ben's face watching that parade and saying "Boo to You!" I still grapple with the fact that we will never again enjoy those moments together. I wonder if I will ever want or be able to see it again. And maybe it's okay if I never do. Maybe those were special moments that were just ours. On the other hand, maybe one day I will want to return to Mickey's Not So Scary Halloween. That will be okay, too, because Ben will always be in my heart. He will always be present, just in a different way. Unfortunately, on a day like Halloween, it is not quite enough. I need some pixie dust or some bibbidi bobbidi boo!
This year, I baked Halloween cookies. Baking and decorating cookies is almost meditative for me.I call it my therapy. It also keeps my grandma close, since she taught me my great-grandma's recipe, and it keeps Ben close, because he is the biggest part of any Halloween tradition and he loved when I baked cookies, teasing me about my elaborate processes. On the ghosty-ghosts (what we always called ghosts) I wrote "Boo to You!" because I know Ben would have loved that, so it gave him a sweet, special presence in the holiday that is uniquely ours.  I need that.
Now, I feel like a Halloween observer rather than a participant. Maybe it won't always feel that way, but I do feel terribly lonely, and out of place. When it comes to Halloween, I'm only at home in the memories, so I will delve into those this evening as I look at our photos and videos.
As I think about the holiday this year, and reflect on my Halloweens with Ben, I realize that my post from last year still rings as true this year, and give me a positive perspective, so here are my words and memories of our most magical Halloween ever, at Walt Disney World- IN JULY!
Halloween was the most fun holiday for Ben and me, especially when we were at Walt Disney World for Mickey's Not-So-Scary Halloween Party.  Halloween is extra special for me because Ben proposed to me at Walt Disney World on Halloween. It was very exciting and, of course, I told all of my Disney buddies! Ben never tired of teasing me about my ability to talk to all of my friends. Why wouldn't I?!
There are so many videos and photos of our amazing times, but, of all of the fun Disney times we had, I think that a most poignant memory was the Halloween celebration we had back in July 2014. That's right, July. This was a very special trip, because I think that Ben and I both knew that it would likely be our last visit to Walt Disney World, as Ben's ALS was progressing more rapidly. I wanted it to be a most incredible trip with lots of surprises.
Traveling to Walt Disney World was stressful but Ben really did have an amazing attitude. I will write some of the details to give an idea of considerations that have to be made when dealing with ALS and other disabilities. I think it was a combination of realism, naivete, determination and pixie dust that enabled me to make these plans! First, we needed to bring another caregiver. I was advised by Ben's doctors and the ALS team that I should not do this alone.  Ben wasn't happy about it, since another person did change the dynamic, but he had to relent and I had to be strong, since I was nervous about how much assistance he required. Getting to the airport was a bit complicated, since Ben was pretty much homebound at this point. I had to hire an ambulette service to get him down the stairs and safely to the airport.  I contacted JetBlue, which was great each time we flew, before and after Ben's diagnosis. They helped me to choose seats and let me know exactly what to do when we arrived at the airport.  We were taken through security with relative ease and he was literally lifted and placed into his seat by a very kind and accommodating crew, one of whom revealed to me through tears that his brother had ALS. Ben was calm and in good spirits, while I was a smiling nervous wreck!
Disney's Guest Services Department was very helpful and supportive when choosing a room, coordinating transportation to the hotel with a bus that had a wheelchair lift, and arranging for the electric wheelchair to meet us at the hotel. They even put me in touch with a local pharmacy that delivered Ben's nutrition supplement to the hotel. It was waiting for us when we arrived!  We had a room with a roll-in shower, which was such a treat for Ben. We take a lot for granted in life, don't we?
This was going to be a very different trip because so much about Ben's physical abilities had changed. Ben wouldn't be able to go on his favorite rides, Pirates of the Caribbean and the Haunted Mansion. Eating was also a big challenge. Because of these obstacles, I wanted to arrange surprises for Ben that would be fun and unusual. Ben knew I had surprises in store, but he didn't know what I had planned.
Disney has a wonderful Floral and Gift Department (click here to visit the site) that offers a variety of gift  packages that can be delivered to your hotel room. They had a Halloween package but it was available during the Halloween season. I called and explained our situation, making a special request for a Halloween hotel room even though it was July. Disney is about magic and dreams come true, and they did not disappoint!  When we arrived at our room, outside was a banner that said "Spooktacular Halloween July 2014!" It had a pumpkin with blinking lights. Ben thought it was a promotion for Mickey's Halloween Party, but he still got excited. When we opened the door, the room was like a little Haunted Mansion and Ben was completely shocked, thrilled and emotional. I thought that if a full day at the parks was difficult, the room would also look very cool, and indeed, it did, but Ben did great at the parks! I was the one having a hard time keeping up with his zipping around in the electric wheelchair!
Since we were bringing Ensure to the parks in case eating was a problem, I had also ordered from the Gift and Floral Department an insulated backpack with some goodies. Also, we were joined by a giant walking Buzz Lightyear balloon. Here are pictures of some of the magic.
I learned that there was a Pirates and Pals Fireworks Cruise with a party where you could meet Captain Hook and Mr. Smee. When I found out that the boat was accessible, I had my next surprise for Ben! The day of the cruise, I gave him as a hint a little pirate coin I'd found at one of the gift shops. His first guess was that I'd arranged for him to go on Pirates of the Caribbean, which, sadly, I couldn't do.  We took the monorail (also accessible) to the Contemporary Hotel, where the party began. Ben laughed when he saw the really great pirate-themed decorations. We were given bandanas, too. One of the truly brilliant aspects of the Disney team is that they never make someone with disabilities feel uncomfortable. A cast member came and escorted us with no fuss on an accessible path to our boat. The cruise was so much fun, the fireworks looked magnificent from the water, and, as a surprise, Peter Pan was on the dock to greet us when we returned! OK, so I was more excited than some of the children!  There were tears and there was joy as we listened to the "Wishes" fireworks lyrics, but watching the delight on Ben's face is something I will never forget.
Ben had not had a proper haircut in a few months, so I arranged for him to have a haircut and shave at the Main Street Barbershop. He was a little bit apprehensive, but, as I've said, he had such a great attitude, and he ended up having a great time. The staff accommodated his electric wheelchair and made him completely comfortable. Outside of the barbershop he met up with the Dapper Dans, the singing quartet he loved.
We loved our usual attractions, and Ben loved the new Little Mermaid attraction, where his wheelchair could go right into the clamshell. Of course, we were happy to see our friends.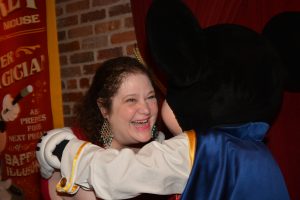 We visited the Wishing Well at Cinderella's Castle, which was emotional. We also became overwhelmed when we met Mickey and Minnie at Epcot.  Maybe it's silly, but when dealing with something like ALS, you just want to believe in magic, or something, that will make things better. People sometimes ask me how I can believe in Disney magic, or that dreams come true. I just do, even when it's difficult. After all, Ben did okay with ALS for about 4 years, and we were fortunate to be able to travel to Walt Disney World many times, even after his diagnosis. We shared a lot of love and wonderful memories that he relived daily as he looked at our many photos and videos. We even had Halloween in July!  And, he left this world surrounded by music, love and even Disney. Maybe it's a matter of perspective, but I feel the pixie dust.
Happy Not-So-Scary Halloween!