Last week was the three-year anniversary of the day that Ben left this world. Holiday weekends also add to the loneliness and feeling of floundering, as does the anxiety of a new school year. I got to thinking about the many Disney quotes that have helped me deal with loss and grief. I am aware that loss and grief did not begin with death. As soon as there was a diagnosis, and throughout the progression of ALS (and my dad's cancer), I grieved the loss of the relationship that we knew and enjoyed, the loss of Ben's abilities and how he mourned them, and the loss of dreams of our future together. Here are some favorite quotes and songs that remind us that as hard as it is to lose those we love, they do remain with us in our hearts.  That's not always enough, and sometimes it isn't even close, but it is a lot. There are times when we miss them so much that we ache and there are times that we recall memories that make us smile and laugh. We hear their voices and their guidance in our heads, we are comforted by some memories and haunted by others, but, in my mind, we were fortunate to have that kind of love in our lives.
I am including links to posts in which I refer to these quotes and songs, but I don't think they need explanation. They are offered here to give perspective and comfort during difficult times. Please feel free to share your reactions. Or, share your own favorite inspirations.
"Love is a song that never ends"– From Bambi (1942)
Here is the music clip to accompany the lyrics to this beautiful song.
Music by Frank Churchill
Lyrics by Larry Morey
Love is a song that never ends
Life may be swift and fleeting
Hope may die yet love's beautiful music
Comes each day like the dawn.
Love is a song that never ends
One simple theme repeating
Like the voice of a heavenly choir
Love's sweet music flows on.
"Look at the stars, the kings of the past look down at us from those stars. Whenever you feel alone, just remember that those kings will always be there to guide you and so will I." – Mufasa to Simba, The Lion King, Walt Disney Pictures 1994
Evermore
Written by Alan Menken and Tim Rice
Performed by Josh Groban, from the Beauty and the Beast (2017) soundtrack.
Now I know she'll never leave me
Even as she fades from view
She will still inspire me
Be a part of everything I do
Wasting in my lonely tower
Waiting by an open door
I'll fool myself, she'll walk right in
And as the long, long nights begin
I'll think of all that might have been
Waiting here for evermore
How Does a Moment Last Forever
Written by Alan Menken and Tim Rice, Disney's Live Action Beauty and the Beast, 2017.
How does a moment last forever?
How can a story never die?
It is love we must hold onto
Never easy, but we try
Sometimes our happiness is captured
Somehow, a time and place stand still
Love lives on inside our hearts and always will
There's nowhere you could go that I won't be with you. –Gramma Tala, Moana, Walt Disney Pictures 2016

Click here for the post.
Remember Me
Lyrics from Coco,
Disney Pixar 2017
Written by Kristen Anderson-Lopez and Robert Lopez
Performed by Miguel, featuring Natalia Lafourcade

Remember me
Though I have to say goodbye
Remember me
Don't let it make you cry
For even if I'm far away I hold you in my heart
I sing a secret song to you each night we are apart
Remember me
Though I have to travel far
Remember me
Each time you hear a sad guitar
Know that I'm with you the only way that I can be
Until you're in my arms again
Remember me
When you lose someone  you love, they never really leave you. They move into a special place in your heart. – Mrs. Frankenstein, Frankenweenie, Walt Disney Pictures 2012
"Goodbye may seem forever, farewell is like the end, but in my heart is a memory and there you'll always be."– Widow Tweed to Tod
The Fox and the Hound, Walt Disney Productions 1981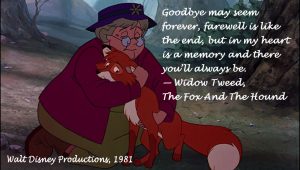 But if you want to leave, you can. I'll remember you though. [looking at her picture of her dead parents] I remember everyone that leaves.– Lilo, Lilo and Stitch, Walt Disney Pictures 2002
Click here for a post on family and click here for a post on the significance of Lilo and Stitch in our experience.
If ever there's a tomorrow when we're not together, there's something you must remember…You are braver than you believe and stronger than you seem and smarter than you think…. But the most important thing is, even if we're apart, I'll always be with you. -Christopher Robin to Winnie the Pooh, 
This clip has the whole sweet conversation between Christopher Robin and Pooh, from Pooh's Grand Adventure: The Search for Christopher Robin (1977), Walt Disney Television Animation