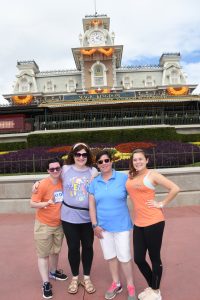 It's taken me a while to sort through my feelings and experiences during my return a couple of weeks ago to Walt Disney World for the first time since I lost Ben to ALS. The last time Ben and I went there together was in 2014, and he passed away in 2015. My very dear college friend, Monica, and her two daughters very generously gave me the opportunity to return and to pay tribute to Ben and to my cat, Disney. While some might find it odd to include Disney with Ben, it is important to note that the way I was raised, pets are family, and Disney was there for me throughout Ben's illness and beyond. In addition to being her loving Mommy, I became her caregiver shortly after Ben left this world because she was diagnosed with several illnesses and required much medication and attention. Losing Disney back in February was losing the one who was closest to both of us and entrenched with us in the ALS experience.
I thought about all my favorite Disney and Pixar movies and quotes and their significance to this trip. Of course, it was Walt Disney who best summed up my time, but who would have thought that I would find it on a coffee cup at the Polynesian Hotel?! He said, "I love the nostalgic myself. I hope we never lose some of the things of the past." He also said, "We keep moving forward, opening new doors and doing new things." This trip represented a combination of nostalgia and looking ahead and it represented a milestone in that I was able to go back and step forward.
It was nerve-wracking to gear up for the visit and I was caught between excitement and fear of the emotions. I flew on a different airline, which had me nervous because I never handle flying particularly well, but at the same time gave me a sense of relief that walking exactly the same path we took might have been too sad.
I met Monica, Abby (my namesake!) and Andi at the Magical Express bus area of the Orlando airport. I got there first and had time to think back to all the times that Ben and I eagerly awaited our buses and how, after his ALS progressed, he even enjoyed going up on the wheelchair lift, treating it like another Disney attraction. Once I was with them, I felt grounded in family. They let me recount all my memories, so they got a glimpse of our experiences, but we also had so many whimsical distractions that helped us to create new ones. I am so grateful for that.
The new memories began at a new hotel, the Polynesian Village, which was one I'd always been curious about. I have to admit that as I took the first selfie with all of us, pictured below, it felt surreal to be smiling. I was caught up in the excitement and wanting to be happy. I almost felt like I was watching myself, keenly aware of my reactions to everything. Being with people who love me and whom I love, and who wanted this to be a special trip, made it an overwhelmingly joyful experience, even when the memories were difficult.
We started at the Animal Kingdom, where I took videos of the musicians, as I know Ben would have done. I do love to look at things through his eyes. Once I saw my friends Doug and Russell from Up, I was back in the magic. Then, we saw Rafiki and Baloo. You can tell me they are actors all you want, but if you're going to go to the Kingdom, you must buy into the whole experience. I just do it with great zest!
I quickly realized that I was going to remember my times with Ben with every step I took at Walt Disney World. At times it was jarring, but because I was able to talk about him, I was able to bring him with me into my new experiences.
I think that aside from the actual attractions, it was in the photographs that I felt tremendous emotion. Posing for the Parks' photographers, I remembered my photos with Ben. I was so delighted to capture special moments with Monica, Abby and Andi. In some cases, where I have photos of myself with Ben, I needed to take a photo by myself. I needed to have that visual statement that I was by myself and things are so different now. However, the photos are also proof that I am okay and that I am, as Christopher Robin told Pooh, "braver than I believe" and "stronger than I seem."
I have written about times when Ben got emotional around Mickey and Minnie, or Buzz Lightyear. I remember how Goofy stayed at Ben's side until he made him laugh, and how Mickey and Minnie hugged him so dearly when he was overcome with emotion. I still believe that although his ALS wasn't cured, the Disney magic was at work giving us several opportunities to visit and enjoy Walt Disney World after his diagnosis. This time, I had to thank these characters for the joy and strength they gave to Ben and to me. Yes, I am well aware that they are different actors, and that they are actors. But, they are Mickey and Minnie and Buzz and they are symbolic in our relationship and his battle with ALS.
For our first evening, Andi had arranged for us to have dinner at Hollywood and Vine, a restaurant that Ben and I enjoyed because the buffet gave us lots of opportunities to find foods that he could easily chew. My big surprise was that it has become a Halloween character event, and when we arrived, Andi told me that Minnie was right inside! So were Mickey, Goofy, Donald and Daisy! I can't describe how heartwarming it was that Andi arranged this surprise! For so many years, I had been the one to make all the arrangements and create the surprises for Ben. Monica's arranging this trip was more than I could ever have imagined, and to be the recipient of these gifts made me feel so surrounded by love and so fortunate. Minnie Mouse seemed to have been very touched when I told her that at a certain point in the ALS progression Ben would only try to get out of his wheelchair for her and Mickey and she hugged me and signaled that I am strong and that she loves me. It didn't take long before I was completely in tears. Minnie is one of my very favorite characters- she is like a kindred spirit to me- and to connect over my memories and my grief was very powerful. Thanking her was something I needed to do.
I was dreadful at the Buzz Lightyear Space Rangers attraction. Ben would have teased me mercilessly! It was great fun to enjoy the attractions with actual children- well, teens. Ordinarily, when there were announcements about holding small children by the hand, Ben would grab my hand and laugh.  Afterwards, we went to meet Buzz for photos in exactly the place where Ben and I had met him. I showed him the very brief video of when he met Ben and made a fuss over his Buzz Halloween shirt/costume. Of course, Buzz indicated that he "remembered," and I got choked up as I thanked him. I took my photo alone (though I am firmly convinced that Ben's spirit accompanied me) and then got fun shots with my friends, my family.
Being at the Magic Kingdom is truly my happy place and being able to dance and share the magic with loved ones adds a whole new layer of joy to my treasure trove of memories. I felt Ben beside me on each of our rides through It's a Small World- yes, there were a few! Ben always joked that after he left this earth, that he would do two things: 1. Haunt me if I ever met another man; and 2. Be a grim grinning ghost at the Haunted Mansion! I fully expected that he would join us on the doom buggy, and I found that a comfort. Outside the mansion, we paid our respects to Ben, and to Disney, and even to Tiffany, my first cat who truly loved all of our Disney plush toys.
I was a little nervous about attending Mickey's Not So Scary Halloween Party because it was one of our most treasured events. It made me so happy that they loved the Boo To You parade because Ben loved it so much that he often listened to the music and whenever he was annoyed, he would scoff, "boo to you!" I choked up as it begun and I couldn't help but turn to Monica and say that it just isn't fair that Ben wasn't there to enjoy it. ALS isn't fair. It's never fair when terminal illness cuts short a person's life. The Halloween party offered a few parallel experiences, including photos with Pooh and his buddies all dressed up for Halloween. I so clearly remembered posing for that photo with Ben in his scooter. I will forever admire his positive attitude throughout his battle with ALS. He would have loved the photograph below with the animation of the ghosts.
Although I relived some of the old memories, I had so many laughs and fun times, creating so many new memories. I do miss having kids of my own, so to share a lovely relationship with my friends' children is very important to me and something I value tremendously.  It was special fun to stay at the park with Andi until midnight, where we were able to go on the Little Mermaid attraction two times in a row! Just to see the attractions and wander the parks through the eyes of the kids is something I could not have done without Monica's arranging this magical trip.
I do find great peace, comfort and love in seeing signs of Ben's presence and this trip was filled with messages that he was accompanying me. The first sign came at the Halloween party. I had been a bit disappointed that we were not going to meet Sully, because he was one of Ben's favorite buddies and he was the first buddy we told when we got engaged at Walt Disney World one Halloween. Sully hangs out at Hollywood Studios. As we looked at the party map, I noticed that Sully was going to be at the dance party. Sure enough, I got to dance with him! Boo was also there and Ben always said I was like Boo because I followed my cats around so much, always wanting to pick them up. Disney loved it, but Tiffany hated to be held and Tinker Bell is not thrilled with it, either. In my mind, Ben had something to do with their being at the Magic Kingdom!
Epcot will always be a special place because of how much Ben loved the freedom of riding his scooter and electric wheelchair through the World Showcase without having many attractions on which to transfer. I felt that it was perfect timing to be there on the very last night of the Illuminations fireworks show because that was a very moving experience for us. I listen to that soundtrack almost every morning- it's beautiful. The kids went back to the hotel and Monica went with me to pay a special tribute to Ben and Disney at the UK pavilion, where Ben loved to listen to the live bands. The band wasn't playing, but Mary Poppins was there. Later, Monica joined the kids to head to the Magic Kingdom but I spent the afternoon wandering Epcot and waiting for the final Illuminations. I visited the Boardwalk, which was our favorite hotel and where Ben loved to look out over the water. Some of the stores have changed, but I treated myself to a splurge of ice cream, as we always did, sat with my thoughts and had a little chat with Ben. I like to believe that Ben will now forever be able to watch those waters. I took a ride on the new Skyliner cars, which, sadly, are now having some problems, but which were quite fun. I took all of the photos and videos that I know Ben would have been taking, particularly when the Boardwalk Inn came into view. I met Joy from Inside Out, which was interesting because Sadness was supposed to be there but she wasn't. I asked if she was too sad to drag herself to Epcot that day. I told Joy that I was having a day of joy and sadness, but her movie shows us that life is just like that, so it's all good. She asked about the Tinker Bell ornament on my Magic Band and I told her that I have a cat, Tinker Bell. Joy signaled to the photographer to ask if I had pictures of Tinker Bell on my phone because she loves cats and Riley, in whose brain she lives, had a cat. So, there I was, the proud mama looking for photos of my baby girl to show to Joy! I returned to the UK pavilion just as the band arrived. I had just done a quiet little tribute to Ben and Disney when suddenly the band played the Beatles Twist and Shout and then their version of Happy Birthday. Those were the signs I needed to know that Ben was definitely with me. Twist and Shout was the first song that we ever danced to and Happy Birthday is the song that Ben called me to play every year when we were dating and then set up on his computer each year, even when he couldn't be at his desk in the morning. We always went to Walt Disney World in October, for Halloween and my birthday, so I felt like he sent me that song. Some people don't believe in signs, but I do, and these signs let me know that I was doing the right thing with this trip and with these tributes.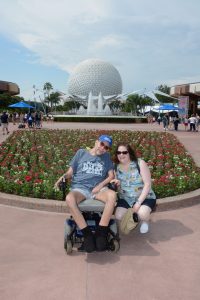 Below, a song I needed to hear from the band in the England pavilion that Ben loved so much. It definitely was a message from him!
I did purchase special light-up Farewell to Illuminations Mickey ears and I got my picture taken with the Spaceship Earth in the background. It's always a bit lonely to do that, but it was a statement for me of how things are different now. As I waited for the photographer, a man I didn't know came up and put his arm around me. The photographer asked if we were together and we laughed and said no, and as he moved on, he said, "but I didn't hear you complaining!" I laughed and said he might have been my prince charming! I looked at the photographer, who was laughing hard, and said it's all about the Disney magic. I'm hopeful that someday my (new) prince will come, despite Ben's warning that he'll haunt me! Maybe that guy was a sign that he's on his way.
On our last morning, we had breakfast with Lilo, Stitch, Mickey and Pluto at the hotel. It is a lovely breakfast in a beautiful setting with Cinderella's Castle in the background. It is a dear memory for me because although it was a schlep in his electric wheelchair from the Boardwalk Inn, Ben wanted to go because he knew how much I loved Stitch and that I had always wanted to go there. I snapped photos of Ben's beloved Mickey shaped waffles, as he always did, and I think they tasted even better because he was such a vibrant part of the memories.
After a fun time with our Disney buddies, we headed to the Magic Kingdom. It was bittersweet to ride Pirates of the Caribbean and Peter Pan's Flight, because they were the first that we had to leave behind because he could not transfer onto them. These were the only times I felt some pangs of guilt for my delight. I can't find a way to reason it away, and although I was glad I went on them, if for no other reason than being proud of myself for confronting the grief, I was too keenly aware of the negative feelings attached to them and although they didn't upset me, they don't hold the same joy for me.
On our last day, we had an opportunity to meet Tinker Bell. I showed her pictures of my little Tinker Bell, whose little white paws she loved because she said they reminded her of the dandelions on her shoes! She asked if Tinker Bell is sassy like she is. It seemed a perfect way to end the trip, bringing all of my wonderful memories and this extraordinary gift of the present, to my current baby and hopefully, more dreams come true.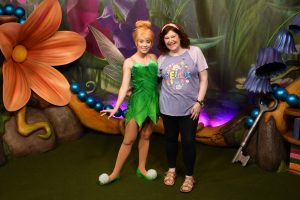 This trip was an incredibly powerful experience of friendship, generosity and love. Winnie the Pooh said, "Good friends will help you until you're unstuck." I'm fortunate to have friends who have stayed by my side as I have come closer and closer to being unstuck. A very profound thank you to Monica, Abby and Andi for letting me see that, although bittersweet and even sad at times, I could return to Walt Disney World to embark on new, happy and laughter-filled adventures while feeling bolstered and surrounded by the love of Ben's spirit and the presence of friends who are family. I will, once again, listen to Walt Disney's words of wisdom and hold tight the nostalgia while moving forward and opening new doors.