It's Christmas. Since I'm technically Jewish, it shouldn't matter all that much, and this year Chanukah and Christmas overlap. Christmas is a big deal to me and always has been. Since I was a child I was always captivated by the colorful trees and fun decorations. I loved coming into the city with my mom to see the beautiful store window displays and the giant snowflake on Fifth Avenue. In a hectic city like New York, the holidays bring out a kinder, prettier, more whimsical side of people. I like that. For me, Christmas is the time of dreams and dreaming, of taking the time to reach out to people who are always in your hearts. Chanukah is a holiday and I do light the menorah and respect the traditions, but for me, it isn't a season or a tone of the year in the same way as Christmas. I watch the Hallmark movies and yearn for what in my mind Christmas is all about and what it looks like. With Ben, I was able to have Christmas, even if it was simply wrapping gifts that he was bringing to his kids. Without people with whom I share my quirky sense of holiday traditions, I distract myself with a whimsically decorated apartment and the magical sights of the city, but I often feel the weight of a life that still frequently feels lonely and ungrounded.
Memories play an important part in all of our lives, for better and for worse. Now, in addition to my memories of many fun Christmases spent with Ben, I also reflect on how I have spent the holidays since Ben and my dad became ill and since they have left the world. My dad died in February 2014, and the holiday season that year was seen from the windows of the train and car service to and from the hospital and then the hospice. When Ben was ill and ultimately homebound, I decorated the apartment, which added some fantasy to an otherwise depressing environment cluttered with life that had been pushed to the side to accommodate medical supplies and equipment because ALS took over literally and figuratively. Those memories continue to fill my mind at this time of year, though I continue to decorate and call upon my holiday spirit. I put Ben's favorite ornaments and decorations where he liked them. Since he was confined to his desk and chair all day, it was important to place things where he could see and enjoy them. The first ornaments I place are the photo ornaments from Walt Disney World. I love those ornaments because we spent so much time choosing the precise photo to represent each trip, even though the photos also reflect the physical changes in Ben that resulted from the ALS. Now, as I place the ornaments in those same locations, I talk aloud to him about it, often smiling. People might think I'm crazy, and maybe I am, but I know that he hears me.
Two years after Ben "left," as he called it, I got my first new ornaments during my visit to London. I chose lovely ornaments from Harrods and Liberty, but they didn't feel right on the tree because they weren't ours and most of the ornaments were Disney ornaments that we chose together. At that time, the ornaments unnerved me because, although they represented a favorite place and a milestone in my life that I was once again able to travel without caregiving worries and responsibilities, I also felt that they conveyed that I had stopped grieving, which was not true. It continues to be a balancing act to deal with grief that never really goes away, and coexisting with those feelings but engaging with life, finding joy again without guilt and anger.
Last year, I purchased my first Disney ornament without Ben. It was a Mary Poppins ornament and I know that he would have liked it. Mary Poppins is very dear to my heart since childhood. I love the ornament, but I admit that it carries the burden of always being seen as the first Disney ornament of which Ben was not a part. Still, I have to remind myself that healing happened- until that point, I had not been able to consider new Disney ornaments. I realized that I was ready for my tree to evolve into a representation of all the beautiful memories that Ben and I created, and of the new ones that I am creating, with the hope and wishes for the magic that Christmas seems to signify for me.
When I was in Walt Disney World this past October, I purchased an ornament from Mickey's Not So Scary Halloween Party. I have had it hanging on a lamp and thought I would put it on the tree. I put it on the tree and removed it several times. Halloween and that party were our most special event and it felt almost disrespectful to put the ornament on the tree, as if it was a slap in the face to Ben that I could go to the party without him and then put a reminder on our tree. Finally, I decided to keep it on the tree because it accurately represented the conflict of struggling with his loss, carrying our wonderful memories with me and continuing to live and enjoy things we shared while acknowledging that they will never be quite the same.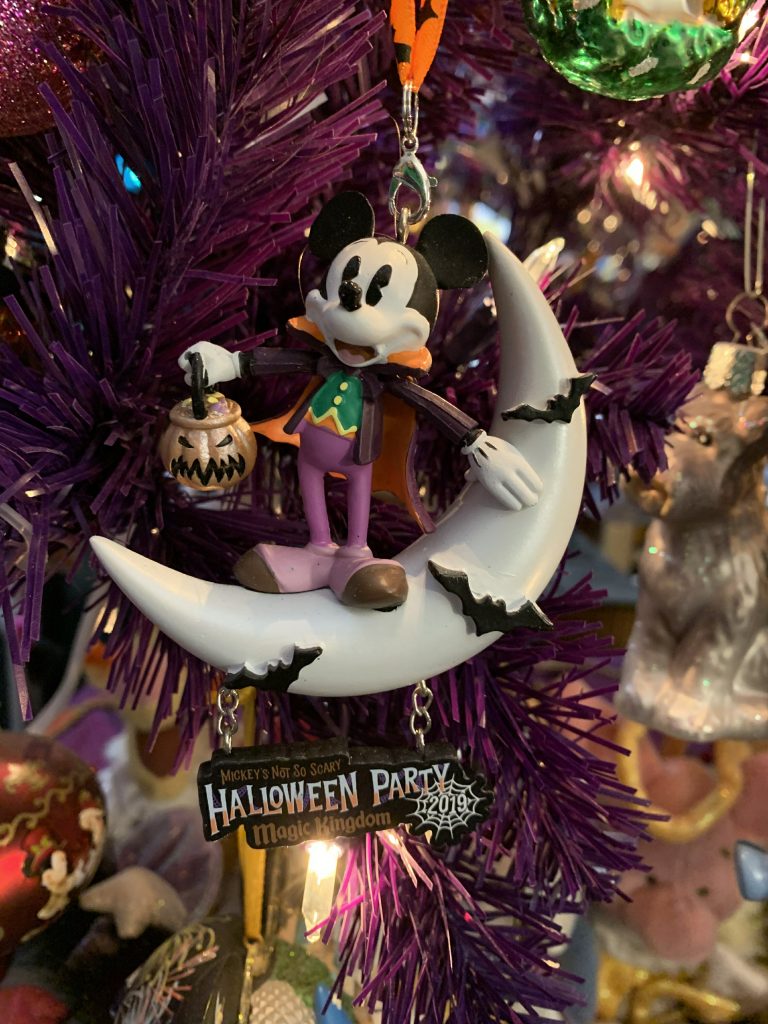 This year, I spotted a very sweet ornament of Carl and Ellie from Up. It was a memory of early in their relationship, captured within a clear glass ball. That ornament touched my heart. Up is a movie with powerful messages about loss, grief and continuing to live. This ornament encapsulated for me the message that I have so many beautiful memories with Ben, and my tree is one way that I can visually display and recall those memories. My heart is fragile, like the glass that captures the memory of Ellie and Carl, but the memories are vivid and strong and beautiful, and they sustain me. The treasured memories surround each other and are, and will continue to be, joined by new memories. They are all precious parts of my story.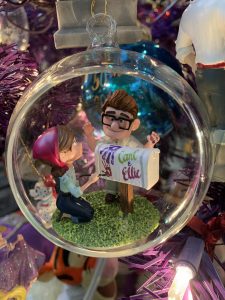 I think about Carl looking through Ellie's scrapbook and reading her final message, "Thanks for the adventure. Now go and have a new one." Here is the clip. I have put the ornament of Carl and Ellie on my tree as a reminder that although holidays are harder times without Ben, and there is definitely a void, adding new ornaments represents a way that I am coping with loss and finding new adventures while treasuring Ben and the memories we shared.
"Up" Copyright © Walt Disney Pictures, Pixar Animation Studios 2009
It has been more than 4 years since Ben left this world. I say that because I want anyone struggling to know that the healing has not been happening quickly for me, but I have noticed and assessed it. We all grieve in different ways and in different timeframes. Sometimes, we see progress in very subtle ways. We have good and bad times. Sometimes we need the non-judgmental support of loved ones. Blogging and journaling have helped me to identify how I have coped, or not. I wish for everyone to have a holiday season in which they feel loved and supported and that allows them to embrace in some way good memories and the hope of new ones.  Please reach out in the comments or privately if you would like to share your strategies for coping with the holiday season.