Today is National Hugging Day. Why not? There's a National Day for everything!
Ben gave the best hugs. As his ALS progressed and his arms became weaker, he could no longer hug me. I remember, in particular, that he felt terrible that he could not hug me when I got the phone call that my dad had died. I remember being afraid to hug him tight, too, because everything felt so heavy to him. It's strange that a day celebrating something joyful like hugging should trigger sadness, but that's the thing about grief and loss. I miss Ben's hugs.
Fortunately, there are so many good memories, too.This picture is one of my very favorites. The story is interesting and, I think, worth sharing.Ben and I were always so happy to meet Mickey and Minnie. As his ALS progressed, Ben still tried to walk to see Mickey. I knew that it was getting bad when he stopped trying to walk and just rode his electric wheelchair up to Mickey. I was always the one who got super excited to see my friends. In this photo, we had just entered the room and were greeted by Mickey. He actually spoke to us. I was just shocked and he reacted with surprise at my shock, so I started laughing.
What you cannot tell by looking at the pure happiness on my face is that this picture was taken on our last visit to Walt Disney World in July 2014. It was a truly wonderful visit, but stressful because Ben needed much more assistance (we brought a paid caregiver with us) and because we knew in our hearts that it would likely be our last visit. You can read more about that visit by clicking here. The Magic Kingdom is very accessible, but making sure that Ben had what he needed, that there were accessible bathrooms nearby and that Ben would be able to fully enjoy himself did come with stress. Getting to meet Mickey without any issue and with Ben feeling truly delighted gave me a feeling of success and relief. What you also don't see in this picture is that I whispered in Mickey's ear that we really needed some magic. Mickey just had to look at Ben in his electric wheelchair- unable to speak very clearly, very thin but with super swollen feet- to know there was a medical issue. Mickey held me tight and he patted my hand. He and Minnie gave Ben a lot of attention. It was emotional and it was beautiful.  I needed that hug. I needed to believe that Mickey could help.
I believe the Disney magic did help. No, it didn't cure Ben's ALS, but, being at Walt Disney World brought Ben such happiness, it allowed him to feel free, and, as Ben described, he forgot his problems, which is saying quite a lot. We had four years after his diagnosis during which we were fortunate to enjoy several visits to Walt Disney World. I do call that pixie dust. So was the hug.
I feel it's an important story to tell because we never know what's going on in someone's head or their story. I love that this photo captured a very vibrant smile before the tears that came with the emotion. That photo reminds me that a hug from Mickey Mouse came with all of the dreams, wishes and comfort that is Disney magic. That hug was compassion. We all need to show and to feel that. Mickey didn't have to say anything, didn't have to offer any advice or judgment- his hug was the compassion that we needed.
This is another favorite picture of mine- Ben loved Sully, and when Sully saw Ben in the electric wheelchair, he ran over to him and offered to help him up. Sully gave Ben the biggest hug, which made Ben so happy. You can just see his inner child shining in this photo. It absolutely delights me to have these memories.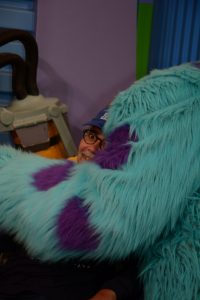 I send everyone a big hug of compassion on this National Hugging Day!