Today marks the anniversary of the 1959 release of Walt Disney Productions' Sleeping Beauty.
With the upcoming anniversary in mind, I watched the film last weekend. I have to admit that my favorite characters are the three fairies. In fact, after my cat Disney passed away and a new, small young cat and I adopted each other, I thought about naming her Merryweather, but it just didn't flow off the tongue. Instead, I named her for another feisty fairy- Tinker Bell!
There is a scene when the fairies brainstorm ways to counteract the curse that Maleficent has placed on Princess Aurora. While Merryweather has the idea of turning Maleficent into "a fat old pop-toad," Flora reminds her that their magic can only do good to bring joy and happiness.
Fauna believes that Maleficent probably isn't very happy because she doesn't know anything about love, or kindness or the joy of helping others. In the story, the three fairies decide to give up their magic and their identities and move to a secluded area in the forest to take care of Aurora until her eighteenth birthday, to keep her safe from Maleficent's spell. Their entire lives turn upside down. They put Aurora's needs before their own. That's a scenario that is familiar to many caregivers. I watched this movie often while Ben's ALS was progressing but I don't think I saw the connection at that time. I think that I was too entrenched in the difficulties and what I thought I was doing wrong to see that the love and care in caregiving were always coming through and were nurturing Ben and me.
In my own story, when Ben was diagnosed with ALS, although he lived in denial about its progression, we went crisis to crisis and began shifting things in the apartment as necessary. I had to take many days off from work to help him or just to provide emotional support if he was having an anxiety attack. There were a couple of times that I thought my job was on the line until my principal helped me to arrange for family medical leave. I was tired and stressed, but that was not a priority. There was sometimes tension between Ben and me because I was having a difficult time juggling full-time work with full-time caregiving and Ben would not admit that it was difficult and that he needed more care than I alone could provide.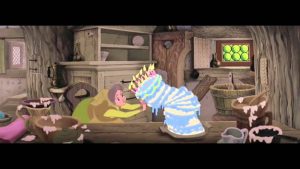 When the fairies were scrambling to make Aurora a beautiful birthday cake and dress without the use of magic, I thought of the many times that I would experiment with foods and the Vitamix, or help Ben to devise some kind of contraption to help with his lack of dexterity. The fairies wanted to surprise Aurora with a party, finding ways to get her out of the house so they could decorate. I thought of the many nights that I waited until after I had put Ben in bed to decorate the apartment for holidays or Ben's birthday, so he would awaken to a surprise. I lacked the wand, but like any caregiver, I had to create a kind of magic to make life easier and entertaining. Only in retrospect can I see how it may have exhausted me, but it also fueled me.
We all have to deal with our Maleficents. These were the unreliable family members or even the completely unhelpful but judgmental health care professionals. Like Merryweather, I had some spirited fantasies, but they were more along the lines of banishing them from our kingdom! Alas, I, too, had to focus on the caregiving and vent to my friends the way Merryweather vented or fantasized aloud to Flora and Fauna.
As I look back at my caregiving days, I realize that although it was the most difficult work I ever did, it was the most important and loving work, too. The fairies were entrusted with Aurora's life and they did whatever they had to do to protect and care for her. I was not as selfless as the fairies-  there were times that it made me angry and resentful to have to juggle so much, especially when Ben was not acknowledging that his ALS was progressing and I was losing my ability to "just keep swimming." At the same time, I also would not have had it any other way. Ben knew that about me and I knew that about myself. Caregiving let me see that I found the most satisfaction and joy in showing love and kindness while helping Ben and my dad.  It wasn't a matter of feeling happy all the time. In fact, I was not happy to Ben – and my dad- decline and to see our lives and future disappear. However, I felt purposeful and proud that I was the person they knew they could count on to always be there for them.  I realize now that I had the most true sense of myself when I was caring for and bringing joy to them. Although those days are behind me, I often reflect on them, and looking back through the lens of Flora, Fauna and Merryweather remind me of the valuable life and love lessons of caregiving.
Another favorite part of Sleeping Beauty is when Aurora tells her forest friends about the prince she sees in her dreams. She says, "If you dream a thing more than once, it's sure to come true." So, I will keep wishing and dreaming and feeling the pixie dust for cures for ALS and all awful illnesses, and for love and all good things. I hope you do, too, and I hope your wishes and dreams come true.
Thank you, Flora, Fauna and Merryweather, and Happy Anniversary, Sleeping Beauty.