Today is International Cat Day. Sometimes, it's hard to take all of these celebratory days seriously. Sometimes they are just fun. But, today, a day to celebrate my cats, is deeply felt time to honor my girls, Tiffany and Disney, whom I miss so much, and Tinker Bell, who, like the fairy for whom she's named, has brought some real pixie dust into my life. August is always an emotional month of ebbs and flows because it marks Ben's time in the hospital and the day that he succumbed to ALS and left this world. Now, it also marks another year of COVID19 and uneasiness about the upcoming school year. I have spent much more time at home during the coronavirus pandemic, and I am even more grateful for the company of Tinker Bell and reflective on the significance of pets in my life. I also think about how important it was to have my pets during caregiving days and grief.
Disney characters often have pets, and those characters are often the most reliable friends, filled with unconditional love and an ability to bring comfort, joy and laughter. Mickey Mouse has Pluto, Gepetto has Figaro and Cleo, Cinderella has Bruno and the mice, Prince Eric has Max, Jasmine has Rajah, Lilo has Stitch, the Darlings welcomed Lady, and Moana has Pua, and these are just some of the pets. Sure, they are cute to watch, and they add levity, but as I've gone through caregiving experiences and grief, I see them as more than just adorable sidekicks. As a pet lover, I recognize the power of their devotion and friendship. The pets, and even the forest friends of Snow White and Princess Aurora (Sleeping Beauty), are the ones with whom they share their hopes, dreams and worries. Pets help take away the loneliness and sadness. I think they've always won my heart because they conjure the lighthearted and sweet way that my own pets have helped me to delve into my emotions and feel hope and love. They also allowed me to fulfill my love of taking care of others, human and otherwise.
From the time I was a child, and our dogs became ill, we doted on them and cared for them. We grieved them when they left. When I was sad, I could always count on my pets to bring comfort. When they became ill, we were their caregivers and brought comfort to them. I suppose I learned a lot about caregiving watching my parents tend to our dogs as they aged and became ill, feeding them with syringes and carrying them up and down and in and out. Our lives revolved around them. We would have had it no other way.
My dogs and cats also cared for me. After I lost my mom, our dog, Dulcie, was the one I turned to when I needed comfort from the tension and grief that pervaded my house and family. She then kept me company during my grandma's battle with cancer. It was beautiful to see Dulcie stay by grandma's side, bringing her comfort and peace. Dulcie may not have been able to communicate with words, but she clearly sensed that grandma was leaving this world and she shared our grief. When words eluded me, I could just sit with Dulcie and feel her devotion. When I simply needed distraction, she was always up for a game with her toys.
There's a perception that cats are aloof, but my cats have always been very sensitive and attuned to me. They've known when I needed them and they know that I will be there for them. Tiffany may not have liked to be held, but she had her own way of showing affection, though definitely on her terms. She brought so much fun and comfort to my life, especially because she was the first pet who was only mine and my first cat. Also, Tiffany chose me. I was her human from the moment she entered my workplace, so there was no question she would go home with me when I got new job. When Tiffany had cancer and needed surgery, I did whatever needed to be done, and my dad helped me because he considered her family, too. It was an honor to be her mommy and her caregiver.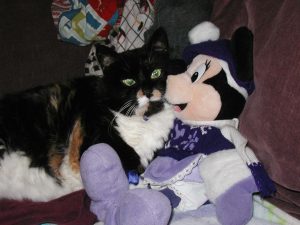 When I lost Tiffany, Ben and I welcomed Disney, my cuddliest and sweetest girl. Poor Disney had the responsibility of being there for me when I was caring for my dad and Ben. Disney witnessed and experienced Ben's ALS battle along with me. When Ben became homebound, she kept him company. She accommodated his loss of mobility, making it easier for him to reach and pet her and staying close by so he could see that she was watching over him. It was easy to see her concern as he had more difficulty navigating the space. Unlike many cats who are territorial, Disney seemed to know that there was a reason for all of the changes in our apartment. Furniture was moved, things were stacked, her favorite corners were no longer available, but Disney handled it so graciously. She was there for me when I needed her, too. She sensed if I was crying or frustrated and was always at my side at those moments.
When Ben was in the hospice unit at Mount Sinai Medical Center, I was allowed to bring Disney to visit him. She was on thyroid meds and suffering from arthritis, so at first, she was not comfortable on the bed with him. She sat on a chair and watched him intently. When he asked me to bring her closer so he could stroke her, I put her on my lap and she pulled herself up on the bed, curling up on his chest. He asked me to put his hand on her, she turned on her side, and they both closed their eyes. I truly believe that they said their goodbyes in this moment.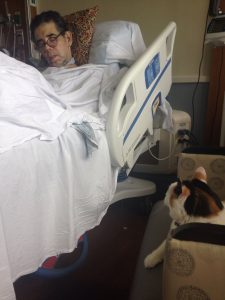 In truth, it was definitely an added responsibility to have a pet while being a caregiver. When I was with Ben in the hospital and did not want to leave his side, on top of everything that had to be handled with Ben, I had to make arrangements for a friend to feed Disney. There were a couple of times that I had to leave the hospital a bit early or arrive a bit later than usual in order to pick up her medications. But, these were things that Ben and I wove into our days and expectations. She was family and I was also caring for her. Those responsibilities were actually joyful.
Disney did not know that she was the comfort that Ben and I needed after we lost Tiffany. She also became the comfort I needed after the loss of Ben. The apartment was so lonely and there was no more structure to my day without my hours spent at the hospital. I don't know what I would have done without Disney's sweet face and presence. Unfortunately, my caregiving structure was quickly restored when, just a couple of weeks after Ben died, I learned that Disney had diabetes and I had to inject her with insulin twice a day. Just as I had to do as Ben battled ALS, I had to put aside my squeamish nature. Once again, I was a caregiver, this time for Disney. We had several emergency visits to the vet, including one in the middle of the night, when I genuinely thought I would lose her. Terrifying as it was, it was this incident that showed me that I truly am a caregiver at heart. (You can read a little more about my experiences with Disney by clicking here) It is my strength and my fulfillment despite the challenges and sadness. Administering fluids was the next phase of Disney's illness and although it took me a while to learn how to do it without pricking her, she handled it so well. I promised Disney and myself that I would never keep her here if she was not having a good quality of life. Eventually, I was by her side as I let her go. It was particularly difficult to let go of Disney because she was my closest connection to Ben. She may not have been able to articulate her feelings, but she saw, felt and responded to his ALS struggle and its effects on our family.
I knew that I could not be alone for long. Within a couple of weeks, I welcomed a new little love. Tiffany and Disney were more than eight years old when I met them, but this little girl was only two. She was half the size of them, which, in my way of thinking, was fairy-sized, so I named her Tinker Bell. I see Tiffany and Disney in her, but she still has a lot of kitten in her, so she makes me laugh with her antics. Ironically, Tiffany and Tinker Bell love all of my Disney plush toys, while Disney, despite her name, was less interested in them. She is a bit skittish around other people so they don't see her gentle sweetness. Tinker Bell's greatest joy is knowing that I am staying home with her, so the sheltering in place was a dream come true for her. I'm glad she doesn't understand the news. Still, I can talk to her about my worries and enjoy having her companionship. I know she thinks she's training me well, but I love making her happy.
This summer, I have finally followed through on my desire to write a book for caregivers. It has been a healing process. I hope that it will become a helpful and even inspiring resource for caregivers. However, looking through many photos and videos has led to some tears. Tinker Bell has come to sleep right up against my leg as I type. Sometimes, I tell her how much I miss Ben. Always, I tell her that I am so grateful to have her as my little girl. She understands.
Having a pet is a big responsibility, which can be difficult when it is added to caregiving responsibilities. There are some logistics that can be downright challenging. While pets may not be able to tackle specific tasks in caregiving, any pet lover knows that they provide an incomparable service. It is a great joy and privilege to have a bond with a pet, and the care and love that we provide for each other is limitless. On International Cat Day and always, I celebrate Tinker Bell, Disney and Tiffany. #InternationalCatDay