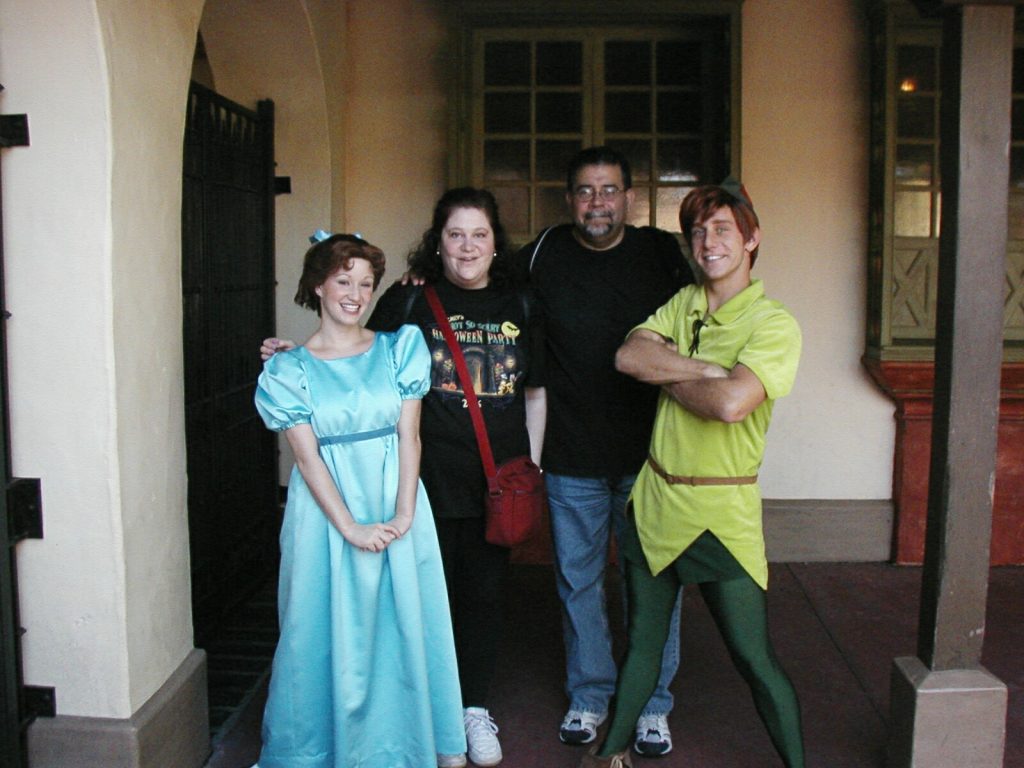 I am pleased to say that I found Peter Pan and Wendy, now on Disney+, to be an excellent and thought-provoking live action adaptation of Disney's beloved animated story. This film tells the story of how the relationship evolved (or disintegrated) between Peter Pan and Captain Hook. I found myself thinking of my caregiving days, relationships, responsibilities and how they have affected my perspectives and who I am today. This film helped me to reflect on what brings us to where we are in our lives. Please note that there are spoilers in this post.
We learn that Peter Pan and Captain Hook- whose name actually is James- were once best childhood friends. However, Peter banished James from Neverland because James said that he missed his mother, a sentiment that was forbidden by Peter. When Hook eventually returns, they are enemies. Peter says that he survived on his own not with faith, trust, and pixie dust, but rather, with the help of his friends. We know this is not true, because these were exactly the ingredients he used to teach Wendy, John and Michael to fly. The lie did achieve Peter's goal of hurting James, who became embittered and evil because of the anger he harbored against Peter for abandoning him. Hook expresses that the hard part of getting old is seeing that, "Your friend can look you in the eyes and not recognize you." This quote resonated with me. Caregiving changed me. I know that. It affected some of my relationships. Importantly, I think about the way my relationships with my dad and Ben shifted to one of caree and caregiver. It was hard to reconcile that I was becoming the parent to my dad and it was hard to feel the shift of Ben's and my relationship. There were times that we lost who we were to each other. There were times that we lost our own identities and did not recognize ourselves. Some friends got to know me better, others drifted away. Friends who were truly there for me saw and understood me at times that I had a difficult time recognizing myself. I did recognize and acknowledge my friends and the love and support they offered. Other people disappointed me with their distance, disinterest or even dismissal. Though I had enough happy thoughts and memories to keep from becoming bitter, I sometimes still fret that some of these relationships became so superficial. I felt that these people did not even try to see me and I also struggled with the fact that I barely recognized these people as the friends they once were.
As in the original story, Peter Pan teaches Wendy, John and Michael to fly by directing them to fill their heads with happy thoughts. Tinker Bell is there to add the pixie dust. Wendy's mind floods with lovely memories that quickly take her into the air. Memories have been a focal point of my own life, particularly as I have coped with grief. Although the sad memories of illness and loss continue to occupy space I my head, I have found that more and more, my mind seems to gravitate to the more joyful memories. I like to surround myself with photos and other memorabilia that make me smile. I let myself have setbacks but don't dwell on resentments and negative memories. At times, I write about them to try to sort them out and give them their say. I want to be clear that I have not rewritten my past in a way that has omitted the difficult times and people, especially when I want to honestly address the challenging aspects of caregiving and grief. Still, I tend to conjure the better times. While I never literally left the ground, that perspective has served to lift my spirits and let me rise from depths of grief.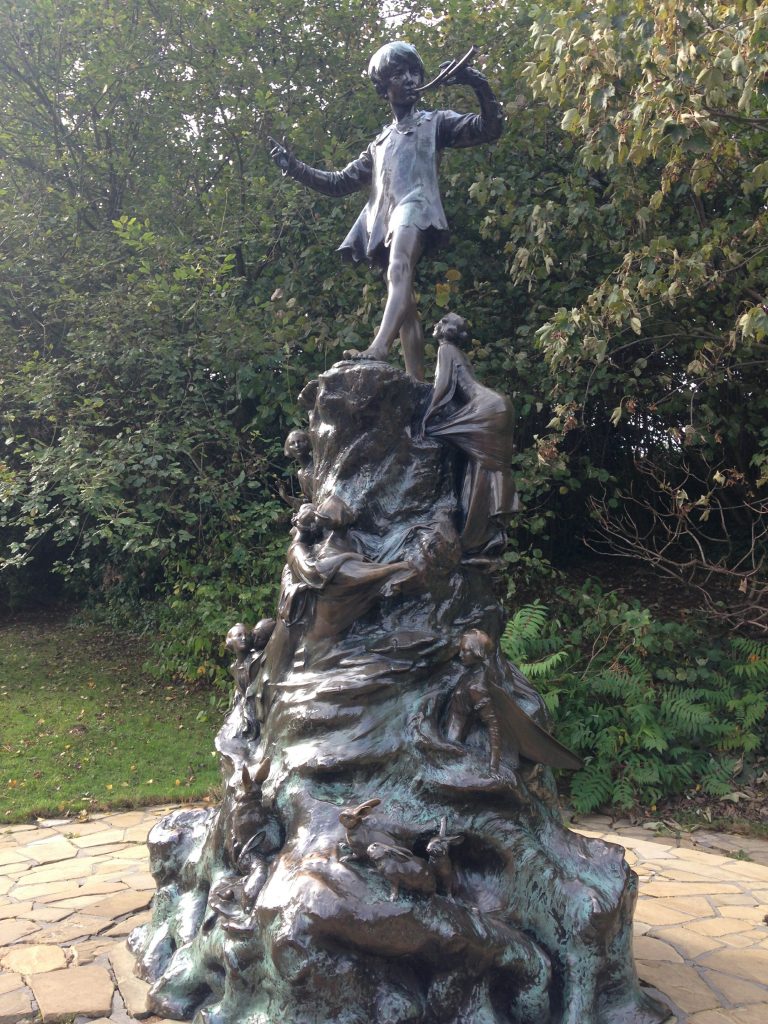 Unfortunately, Hook feels that he has no joy or good memories to propel him in a better direction, now defined only by his hook. On the contrary, Wendy is bolstered by positive, loving childhood memories and she provides the mothering that soothes the Lost Boys. Unlike Hook, Wendy can save herself with her happy thoughts. This is also something that I can relate to. I have said that caregiving was my most difficult, frustrating and devastating experience but also the most loving, meaningful and rewarding experience. The positive and loving memories have carried me forward.
In the original and in this film, Peter Pan says that "To die would be an awfully big adventure." I find this statement particularly unsettling, particularly in light of caregiving for my dad and Ben. I can attest that neither Daddy nor Ben ever referred to their fates in that manner.  But, Peter is a boy who is not allowing himself to grow up and mature. Wendy, on the other hand, declares that to live would be an awfully big adventure and that "to grow up might be the biggest adventure of all." There is great appeal in a Neverland kind of existence, free of responsibility and rules. I am someone whose inner child shines brightly. However, I have also pointed out that my whimsical nature does not mean that I am not grounded in reality. Experience has taught me that there is tremendous satisfaction in taking intimidating leaps ahead to cultivate positive actions and loving, deep relationships, even if the growing pains include uncomfortable changes.
Tinker Bell has always been a favorite character of mine, so much so that I named my cat Tinker Bell because she was small and, in my Disney mind, fairy-sized. In this film, Tinker Bell still possesses her feisty, clever, and adorable manner. Though she does not speak, Tinker Bell is expressive, and Wendy takes the time to understand, communicate with and value her. When they part, Tinker Bell does utter a most profound and valuable expression of gratitude to Wendy, saying, "Thank you for hearing me." To me, that was the heart of the film. Being truly heard and seen for who we are at our core is something that we all want. Feeling validated is something that we need. I saw that in my dad as he grappled with being older, weaker, and more vulnerable. I saw it in Ben as ALS took away his ability to physically care and speak for himself. They wanted to be heard and seen, to know that they mattered. During caregiving and then as I have moved through grief, I, too, wanted to be heard as I worked through how and when to delve into the world of the living and reshape my life. I also recognize this in the caregivers and grievers I support. It is something that we must all practice because it does not always come easily when we see things through our own lenses.
I am still discovering what happens when I head "to the second star to the right and then straight on till morning." I witnessed and felt the power of thinking positive thoughts, intensively listening and hearing, and being recognized for who we are. I am grateful for those who heard and saw me and who continue to support me. The experiences- as well as my firm belief in faith, trust and pixie dust- brought me to this point in my life and compelled me to want to give back and work in support of caregivers and those in grief.
I encourage anyone reading this to document your own experiences of feeling heard and seen, and of doing the same for others. These will become your happy thoughts. Feel free to share in the comments.