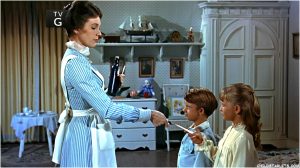 Mary Poppins is my favorite nanny, and extra special because Mary Poppins was the first movie I ever saw in a theater. While her "spoonful of sugar" certainly held the pixie dust to make the medicine go down smoothly, here is a list of some other practical supplies that should be found every caregiver's closet.
I originally prepared the following article for Parentgiving.com
How to Stock Your Caregiving Closet
By Abby Kass, Parentgiving contributor
Given the demands of caregiving and the possibility of urgent situations that make running errands impossible, family caregivers can benefit from keeping a cadre of supplies on hand for themselves and their carees. There are a lot of potential home care situations to be ready for, and you never want to be caught off guard. Having the right caregiving supplies will keep you prepared and can save a sudden panic if you don't have an urgent item and can't make it to the store right away.
To help others with what to store in their caregiving supply closet, I have created a list of items I used when I cared for my dad, who had cancer, and for my husband, who had ALS. I've also included item suggestions from family caregivers who cared for individuals with a wide variety of needs. Peruse this list and see what relates to your experience – and what may currently be missing from your shelves. Depending on the item and frequency of use, you may want to have at least one- or two-month supplies on hand.
Keep the following documents in a clearly marked envelope in your supply closet:
A written or typed list of meds, including dosages, times to administer and special instructions.
Important contact names and numbers (including physicians and the pharmacy) as well as important documents such as the health care proxy, living will or special directives.
This information is essential on multiple levels. If gives you something to look at if you ever have a memory lapse, and it will also be there if someone else suddenly has to step in and provide care.
General Supplies
Small dry erase boards for lists and notes to and from the family caregiver, the hired caregiver and other family members.
Post-it notes to indicate dosages, preferences and reminders. Also good for sweet nothings!
Paper towels
Tissues
First aid kit
Non-stick bandages to avoid a bandage sticking to aging skin, which becomes paper-thin and fragile.
Gauze in various sizes and shapes. You can wrap the gauze around non-stick bandage and add tape over the gauze to ensure the bandage covers the wound.
Paper tape, which is gentler on sensitive skin.
Surgical tape
Antibiotic ointment